The Gracia sisters & PacTel San Francisco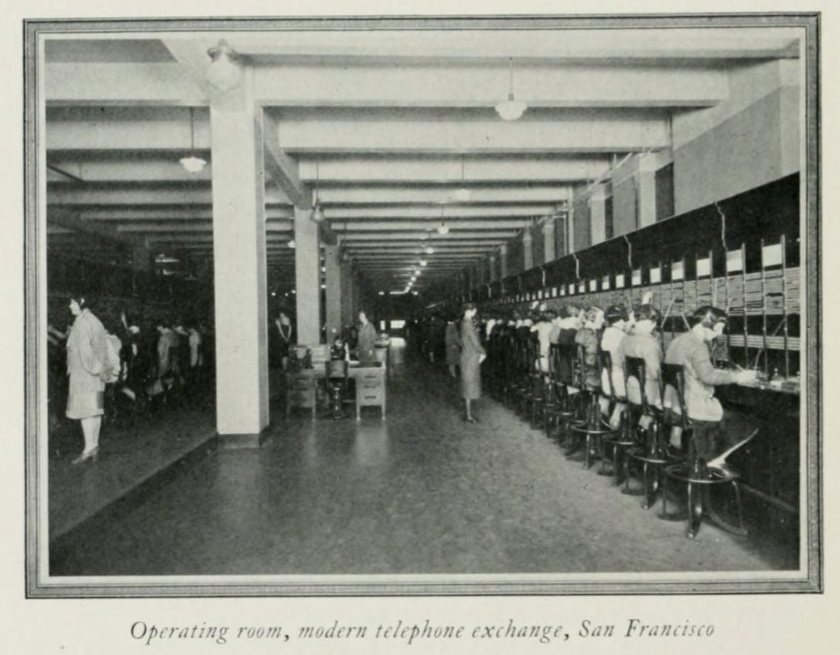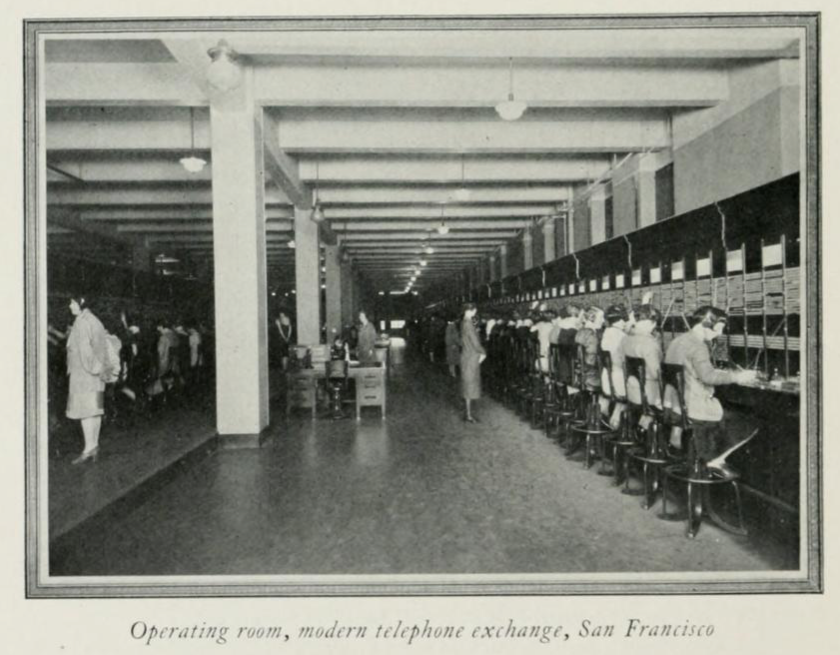 Eight Gracia sisters were born between 1901-1914, seven reaching adulthood, interspersed between four brothers. None of the sisters had reach the age of 18 by the time their father passed away on Armistice Day, 11 November 1918. From 1920 until the mid 1940's six of the Gracia sisters worked as Telephone Operators and, of those, five worked for PacTel San Francisco. Hazel worked as an Operator at Western Union Telegraph Company.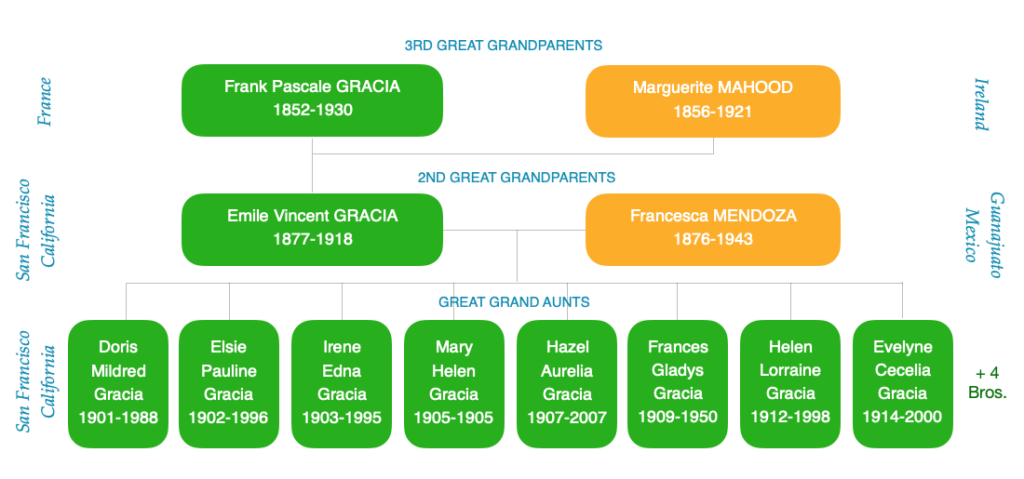 The earliest telephones were not capable of dialing direct from one person to another. They required a telephone operator to physically connect wires on a central switchboard to connect the call. It was a revolutionary new technology, connecting people, and spread quickly to the masses.
By 1927 the Pacific Telephone and Telegraph Company (PacTel) employed 6,700 men and women in fifteen buildings across San Francisco, supporting 230,000 telephones in a city of 720,000 inhabitants. The number of telephones had doubled in the previous decade.
As the number of telephones multiplied, so did the demand for operators. In 1910, there were 88,000 female telephone operators in the United States. By 1920, there were 178,000, and by 1930, 235,000.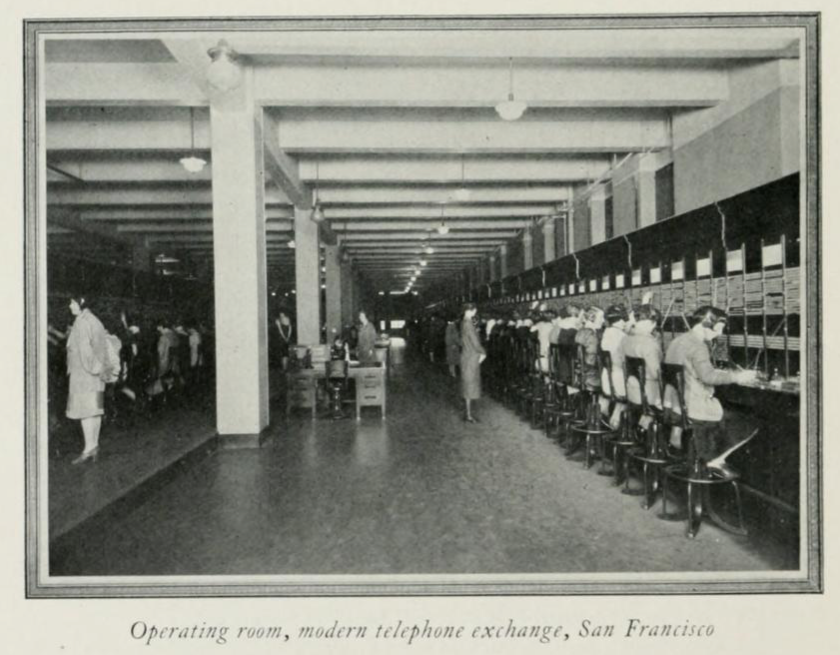 Despite the teenage boys' dubious track record, Pacific Bell continued to employ them as night operators for several more years, believing that women would not want to work nights. But one night the company's vice president, responding to numerous customer complaints about poor service, made an unannounced tour of inspection and found the boys curled up on the floor next to their switchboards, snoring away. "The boys were discharged and women were employed for night work," the "Review" notes, adding, "Since that time telephone operating rooms have been considered to be as peculiarly a part of feminine domain as the home."

Rude boys, bobbing corks and kitchen lines: The birth of San Francisco's telephone system, Gary Kamiya, SF Chronicle
Since the early days of centralized switchboards, young women had been selected for the role of telephone operators as the young men had neither the aptitude, nor the decorum, to handle the role. The young male telephone operators had short attention spans, a lack of tolerance for callers, and personalities which resulted in shenanigans and tomfoolery. By the 1920's the role of telephone operator was perceived as a respectable job for a young woman.
A veteran operator told the San Francisco Examiner. "We are not allowed to speak even in a whisper to each other the nine hours we are on duty, much less smile, and to laugh out loud is the height of recklessness." She said she'd once been forced to work 10 extra hours, without pay, for one brief giggle.

Companies often tried to control their operators' personal lives, as well. "The unwritten rule was that she could not marry and would lose her job if she did," noted Ellen Stern and Emily Gwathmey in their 1994 history, Once Upon a Telephone.

The Rise and Fall of Telephone Operators, Greg Daugherty, History.com
Judging by the careers of the Gracia sisters, it is clear that the unwritten rules were not always followed. Doris worked as an operator prior to her marriage and continued as a supervisor, even returning to the role after the birth of her first child. Similarly Hazel worked for Western Union as an operator for a decade after her marriage. The remaining four sisters followed a more traditional path becoming housewives once married.
Telephone technology evolved through the 1930's, allowing users to simply direct dial another telephone without the operators assistance. Thousands of operators lost their jobs and the number of telephone operators has been in decline ever since.
Gracia Sisters' Occupations

Doris Mildred Gracia (1901-1988)

1920: Operator @ Telephone Company

1923: Marriage to Joseph O'Donnell

1930: Supervisor @ Pacific Telephone & Telegraph Company
1932: No occupation listed

1933: Birth of son Joseph

1933: Operator
1935: Operator
1936: Housewife
1938: Housewife
1940: Housewife

1941: Birth of daughter Catherine

1950: Housewife

Elsie Pauline Gracia (1902-1996)

1920: Operator @ Telephone Company (Jan)

1920: Birth of son George Escobedo (Feb)
1920: Marriage to Clarence Heagney

1930: Marker @ Laundry Company
1934: Housewife
1934-36: Laundry Worker
1938: Laundry Worker
1940: Laundry Worker
1950: Waitress
1955: Saleswoman @ Shaw's
1959: Matron @ Capuchino High School

1959: Marriage to Richard Garcia

Irene Edna Gracia (1903-1995)

1920: Operator @ Telephone Company

1930: Housewife
1940: Housewife
1950: Housewife

Helen Mary Gracia (1905-1905)
Hazel Aurelia Gracia (1907-2007

1930: Operator @ Western Union

1931: Marriage to Maurice Chase

1937: Clerk @ Western Union Telegraph Company
1938: Clerk @ Western Union Telegraph Company
1940: Clerk @ Telegraph Company

1942: Clerk @ Western Union Telegraph Company
1950: Housewife

Frances Gladys Gracia (1909-1950)

1930: Operator @ Telephone Company

1930 Marriage to Ford Ellicott
1935 Birth of daughter Jacqueline
1938 Birth of twins Joyce & Robert

1940: Housewife

1948 Birth of twins Donald & Janet

1950: Housewife

Helen (Elena) Lorraine Gracia (1912-1998)

1930 Birth of daughter Mary Ellen

1933: Telephone Operator
1934: Clerk

1935 Marriage to William Howard

1940: Housewife

1946 Marriage to Joseph Thomas Kennedy
Birth of daughter Patricia
Birth of son Joseph Thomas Jr

1950: Housewife

Evelyne Cecelia Gracia (1914-2000)

1935: Clerk

1935 Marriage to Henry Andrew Paganini

1940: Housewife
1950: Housewife
Family Tree
Marguerite (Maggie) Martha MAHOOD (1856-1921) & Francois Pascale Gracia (1852-1930)

Emile Vincent GRACIA (1877-1918) & Francesca Juana Medina MENDOZA (1876-1943)

Joseph Emile GRACIA (1899-1987) & Claire Kathleen GRANT (1905-1989)

Joan Shirley GRACIA (1929-2021) & Henry James Victor MARCHETTI (1928-2014)
Gracia (living)

Frank John Gracia (1900-1944)
Doris Mildred Gracia (1901-1988)
Elsie E Gracia (1902-1996)
Irene Edna Gracia (1903-1995)
Mary Helen Gracia (1905-1905)
Hazel Aurelia Gracia (1907-2007)
Frances Gladys Gracia (1909-1950)
Ernest Walter Gracia (1910-2002)
Helen (Elena) Lorraine Gracia (1912-1998)
Evelyne Cecelia Gracia (1914-2000)
Ramon Gracia (1916-2010)

Mildred Cleo Gracia (1879-1949)
Daisy Florence Gracia (1882-1886)
Ernest Leo Gracia (1889-1962)
Frank G Gracia (1891-1956)
Firmin C Gracia (1897-1918)
William E Gracia (1901-1978)
References