Obituary: Joan Shirley Marchetti né Gracia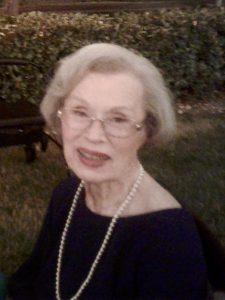 Joan Shirley (Gracia) Marchetti
Oct. 19, 1929 – Oct. 29, 2021.
Born in San Francisco, CA to Joseph E. Gracia and Claire K. (Grant) Gracia. Joan was preceded in death by her husband of over sixty years, Henry J. Marchetti. She leaves behind two sons and their wives, Mark and Pamela Marchetti and Gary and Amy Marchetti, six grandchildren: Mary M. Watt (Christopher Watt), Matthew J. Marchetti (Brenda Wardleigh), Brenda L. Marchetti-Clark (Julian Clark), James A. Marchetti, Laura (Marchetti) Martinez (Brian Martinez) and Joi Marchetti: six great grandchildren: Brenna Watt, Brannoch Watt, Sam Marchetti, Nathan Marchetti, Emily Marchetti, and Enso Martinez. She is also survived by her sister Beverly (Gracia) Stookey and nieces and nephews, Brad Stookey, Melissa Stookey and Jennifer Stookey.
Joan lived in California her entire life having homes in Campbell, Mountain View, Murphys, Valley Springs, Salinas and Lake San Marcos. She and Henry owned a restaurant in Sunnyvale, CA for many years. After retiring from the restaurant business, Joan was a librarian for the Los Altos School District. She enjoyed reading and sewing but in later years, when reading became more difficult, she enjoyed old movies… especially westerns.
She and Henry travelled to Europe and Hawaii. She particularly loved spending time on Catalina Island with her children and grandchildren. She lived a good life, on her own terms. She always did right by her family, she was loved and will be missed. Joan died peacefully in her sleep.