Our families and 1906 San Francisco Earthquake!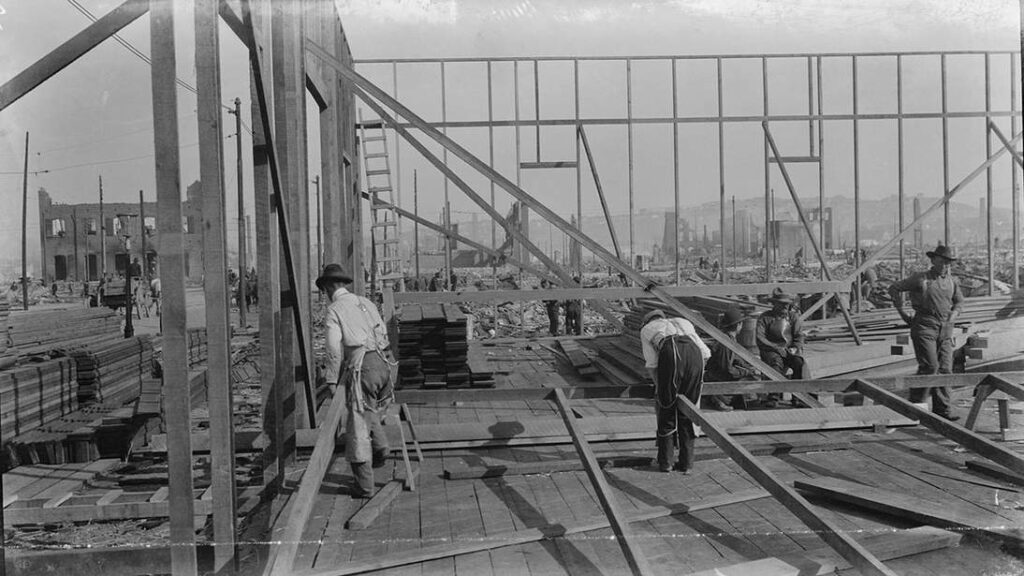 5:12am Wednesday, 18th April 1906, Northern California was struck by an estimated 7.9 magnitude earthquake, shaking the city of San Francisco for 42 seconds. 80% of the city was affected by the quake, however the subsequent four days and nights of fires caused the total destruction of historic downtown San Francisco and the loss of thousands of lives. In the aftermath of the great earthquake both of our families were residing in San Francisco.
Support for the affected families was rapid. Relief agencies handed out more than $3 million to destitute citizens. Homeless families were housed in temporary tents and wooden cottages in city parks. There was plenty of food, even a free tobacco ration.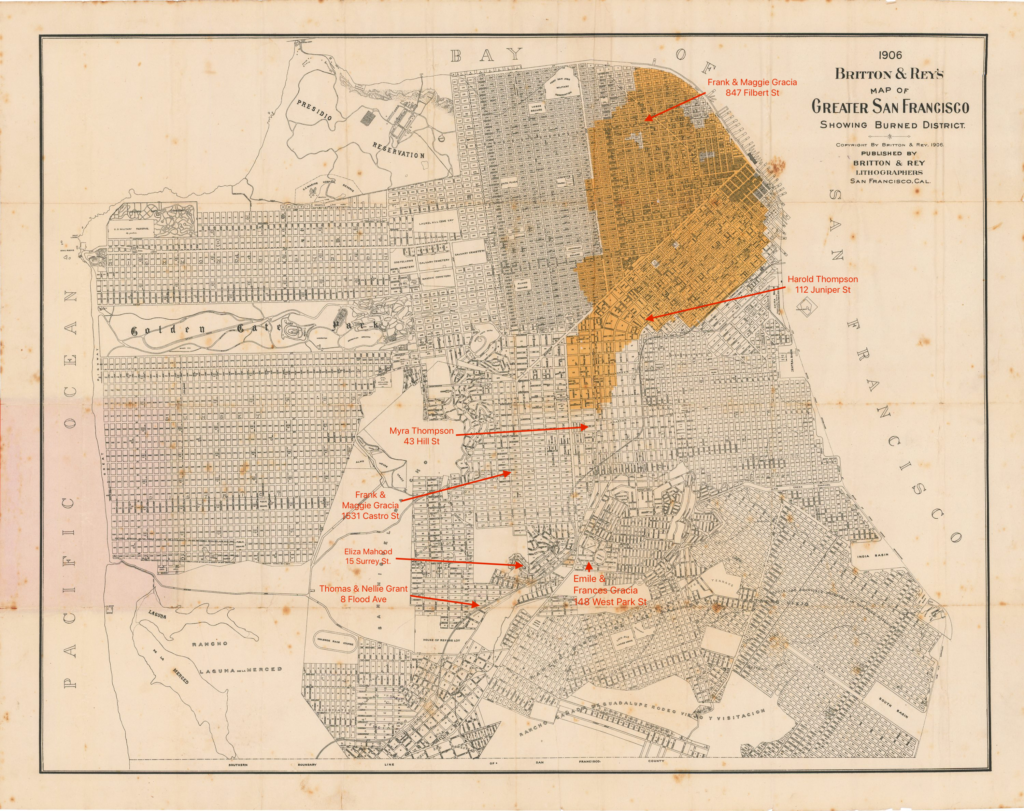 The cleanup work was staggering. 61/2 billion bricks had fallen during the earthquake and fire — 30 million of them in the ruined Palace Hotel on Market Street. For a couple of weeks, able-bodied citizens were drafted into clearing rubble by gun-toting soldiers, but before the end of April, the professionals took over, laid railroad tracks, brought in heavy equipment, and started hauling away what was left of the city.
Thousands of tons of rubble were dumped in Mission Bay, in what is now the Marina District, and in the ocean off the cliffs near Lands End. The work was completed with horse power. Approximately 15,000 horses were worked to death in San Francisco in the months after the disaster.
The rebuilding of San Francisco was immediate and swift, reflecting the resilient energy of its citizens. In this photo taken just weeks after the earthquake, carpenters constructed the wooden frame of a building among the surrounding ruins.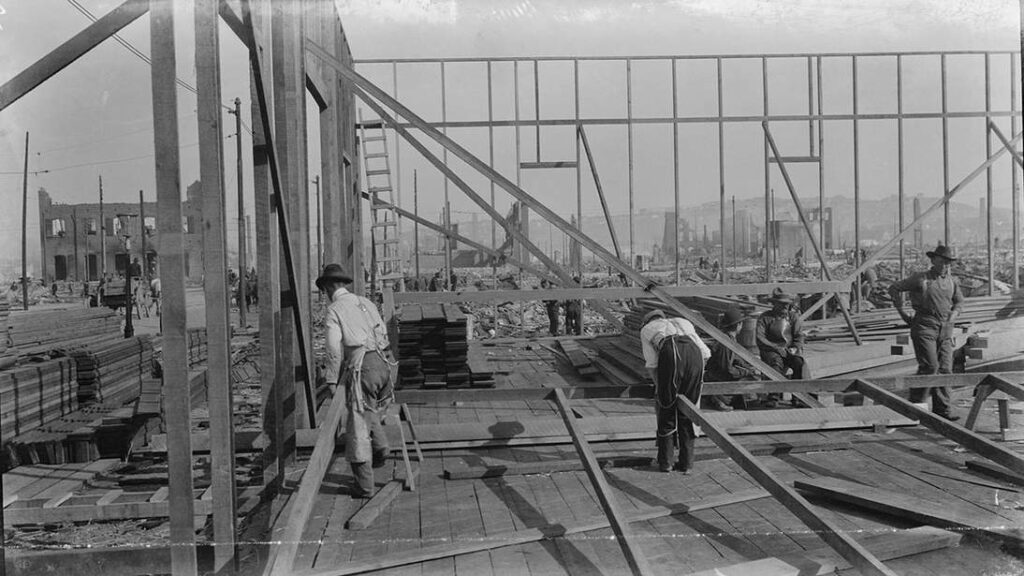 By midsummer, there was plenty of work. Carpenters were making $5 a day, bricklayers $6, and plumbers $7. Lumber came in by the ship and trainload; the redwood and Douglas fir forests of the North Coast were cut down to rebuild the new San Francisco. Within three years, 20,000 buildings were erected.

The Great Quake: 1906-2006 / Rising from the ashes, Carl Nolte, Chronicle Staff Writer
At the time of the quake, Maggie & Frank Gracia were renting lodgings on Filbert Street in the middle of the fire zone. Their neighborhood of twenty years was razed. Frank had worked as a cook and waiter while Maggie was raising their youngest four children Ernest 17, Frank 15, Firmin 9, & William 6. We assume they sheltered with family less affected by the devastation before relocating to Castro Street where Frank picked up work as a bartender. A couple of years later the family moved in with Maggie's aging widowed mother, Eliza Ann Mahood, on Surrey Street in Glen Park.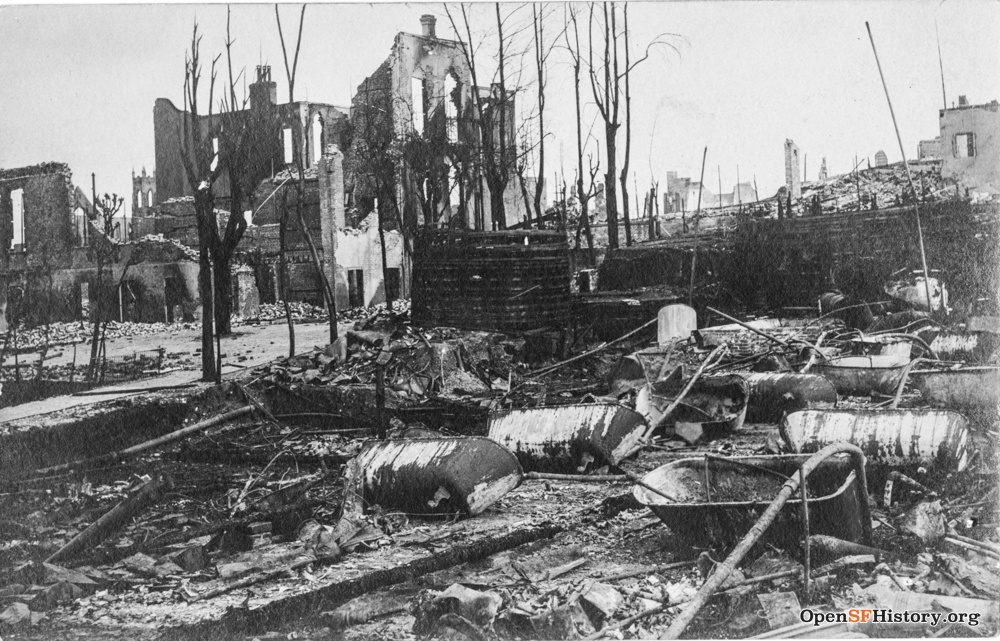 Their eldest son Emile V Gracia was a conductor on the Market Street Railway and his wife Frances Gracia was raising their five young children when the earthquake struck. They had moved to West Park Street in College Hills around 1903 and remained until 1907 so we assume the property was not overly impacted by the quake. The family continued to move as their family grew (12 children over 17 years) until they settled in the Portola neighborhood on Hamilton Ave.
Emile returned to work soon after the quake as the streetcars began running downtown within eight days! The photo below shows the streetcars on lower Market Street packed with excited citizens and sightseers.
Their eldest son (and direct ancestor) Joseph Emile Gracia was six years old, attending school, and would have lasting memories of the earthquake.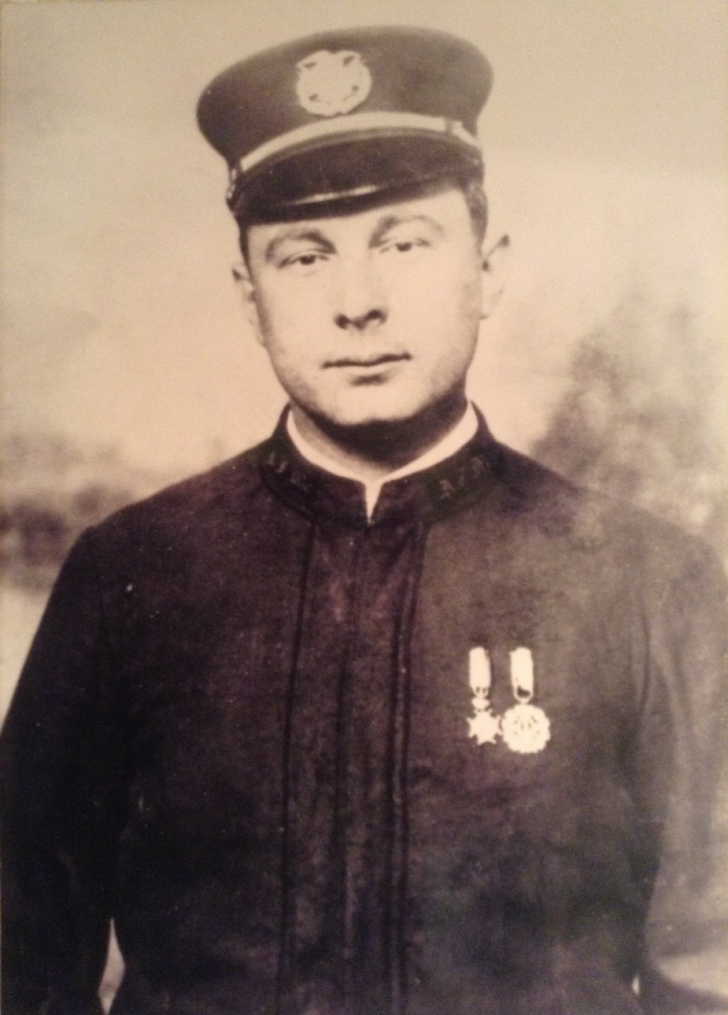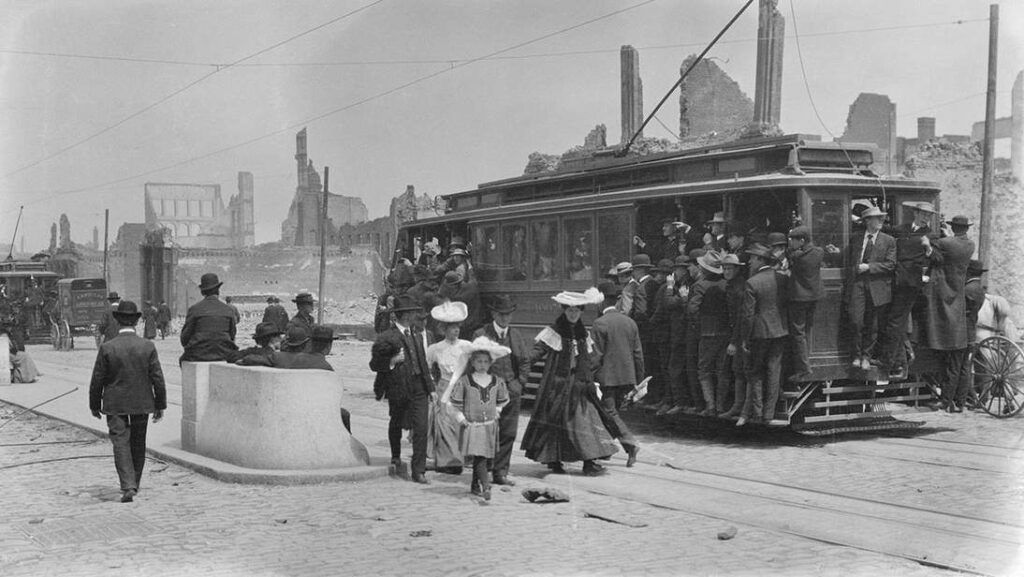 Prior to the earthquake, Thomas Grant was also working as a conductor on the Market Street Railway and undoubtably knew Emile V Gracia, long before their children married. Post quake, Thomas worked as a laborer and hod carrier in San Francisco while his wife Nellie was raising three young children, Mary 10, Joseph 6, & Claire 1, in south Noe Valley. Their last child Thomas, was born in the summer of 1907 as the Grant family settled in a new developmenqt at 8 Flood Avenue, Sunnyside. They remained in the property for 20 years. Their youngest daughter Claire would settle in the same property with her husband Joseph Emile Gracia and their two daughters in the 1930's.
My Thompson family's first recorded Californian resident arrived San Francisco in 1907. Harold Thompson, a 21 year old carpenter was working for the family business in Driffield, East Yorkshire, and was lured to San Francisco to help rebuild the city. However Harold may have been actively looking for a change. The apprenticeship with his great uncle's cabinet business in Driffield was interrupted by an epic factory fire in 1905, displacing 150 carpenters, and the business appears not to have recovered. Messrs Shepherdson's business and property was sold off in September 1908
Harold may have initially stayed with the Baker family in Noe Valley before finding newly rebuilt lodgings on Juniper Street at the border of SOMA and the Mission District at the edge of the burned districts. His future wife Myra Thompson, who he probably met at church, was living a couple of blocks away on Hill Street, in the Mission District, also close to the burned districts.
Harold did not travel alone to California. He emigrated with James Munby, another Driffield-based carpenter, ten years his senior. The two shared the same San Francisco friend, Arthur Baker, who also happened to be a woodworker and the two new arrivals worked together as cabinet makers at Fink & Schindler. In fact, the 1910 Federal Census records Harold boarding with James Munby, and his family who had followed in 1908.
Harold & Myra married in 1913 at the vineyard and fruit orchard of her father in Bonny Doon, Santa Cruz, before relocating to British Columbia. It would be ninety years before my family would return to San Francisco. My wife and I moved to 1300 Golden Gate Ave, San Francisco, in 2003.
It's plausible that Harold & Myra rode Emile's Street Car to drink at Frank's bar on Castro Street. It's also possible that cabinets from Fink & Schindler made by Harold could feasibly have found their way into a Gracia or Grant household. However that is purely speculation.
Gracia & Grant ancestors in San Francisco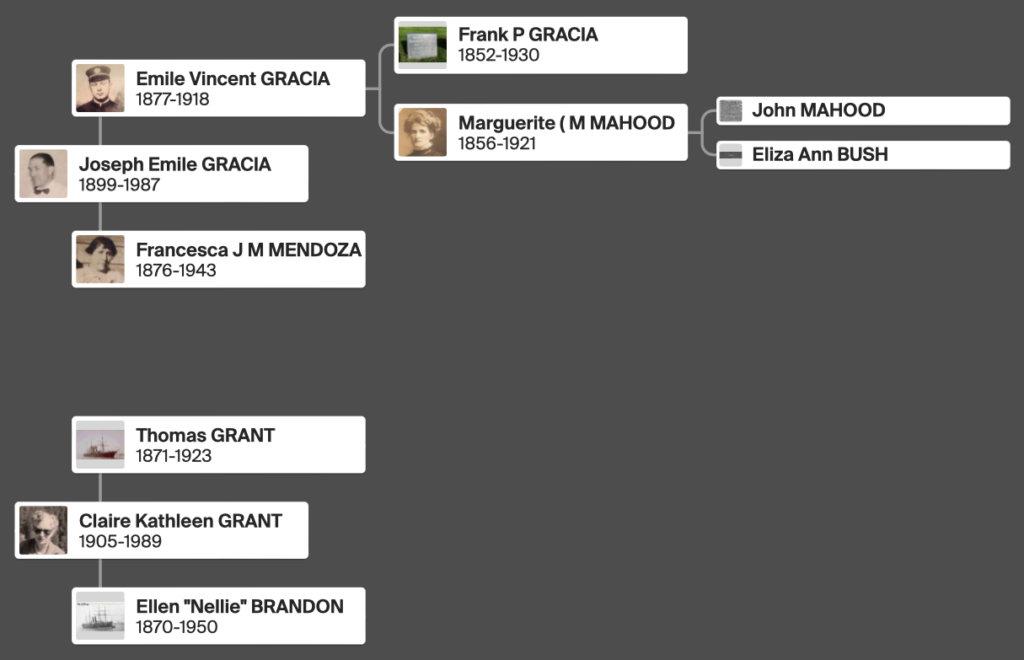 4th Great Grandparents
3rd Great Grandparents
2nd Great Grandparents
Emile Vincent GRACIA (1877-1918)
Francesca Juana Medina MENDOZA (1876-1943)
Thomas GRANT (1871-1923)
Ellen "Nellie" BRANDON (1870-1950)
Great Grandparents
Joseph Emile GRACIA (1899-1987)
Clare Kathleen GRANT (1905-1989)
Thompson ancestors in San Francisco
Great Grand Aunt & Uncle
Myra Edith Thompson (1887-1979)
Harold Thompson (1886-1960)
References