John Thomas Onions & The Engine Wrights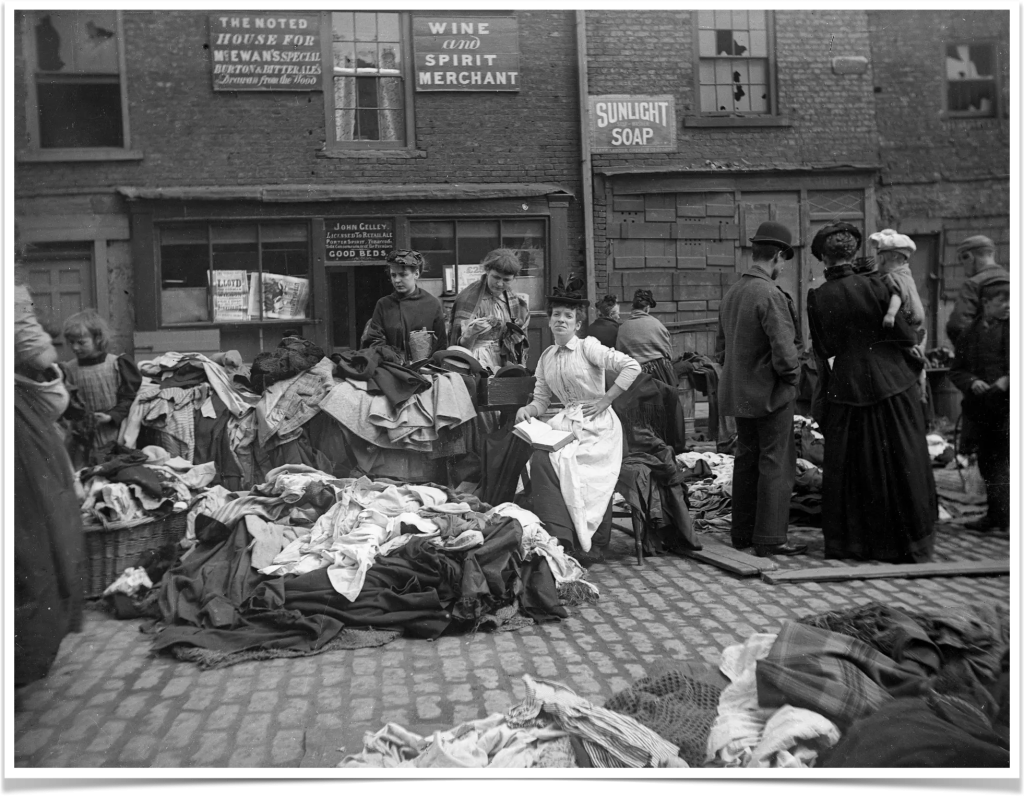 John Thomas ONIONS was born in Gateshead to an unwed mother, Martha, 21 September 1842. He was 2 years old when his mother married but was still listed as John Thomas Onions in his grandfather's last will and testament in 1845.
Until the Legitimacy Act of 1926, illegitimate children had no legal kin except their mother, a decisive impediment in matters of property inheritance and poor law settlement, hence the reason why he was named in his grandfather's will.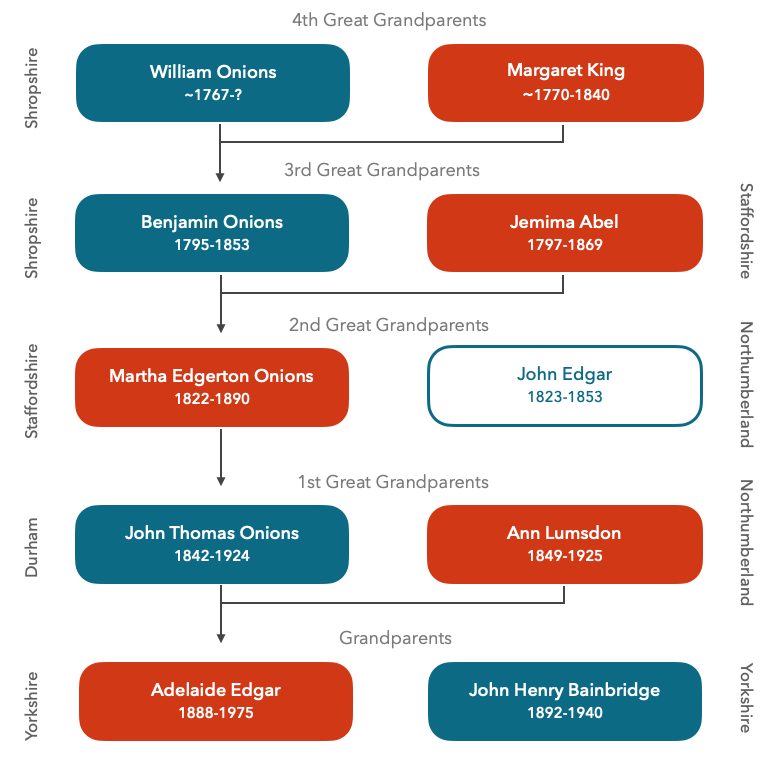 By 1851, 8 year old John Thomas Edgar, having adopted the name of his step father, was living in a tenement on Lambton Street, Gateshead, with three younger half-siblings, and attending school.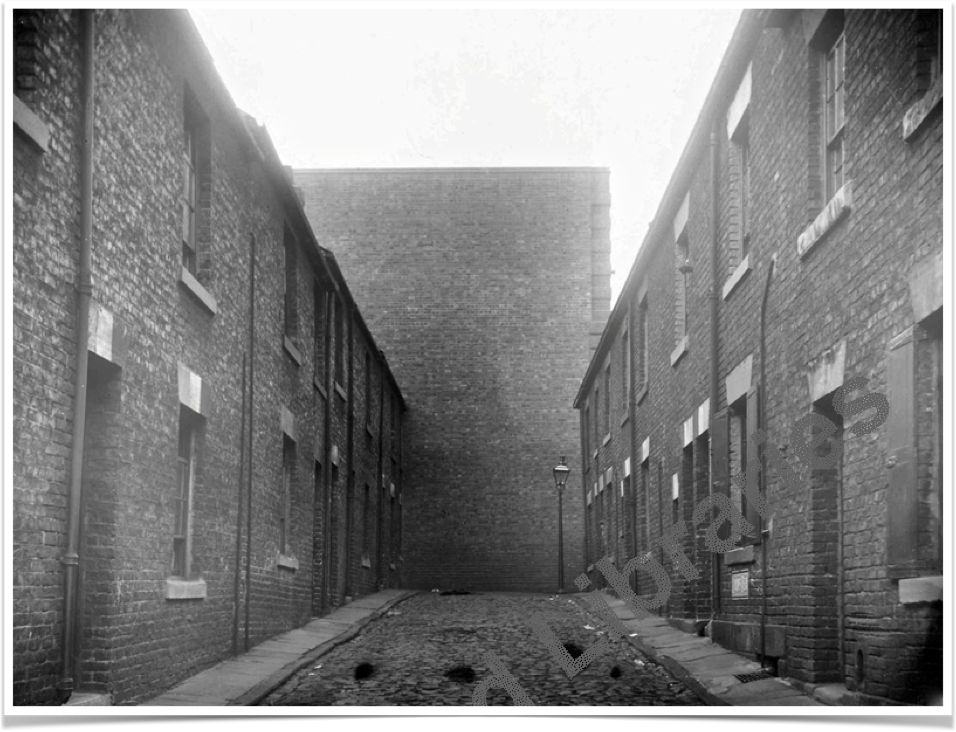 Tragedy struck the family during a cholera outbreak in September 1853 when John Thomas' step-father, John Edgar and his grandfather, Benjamin Onions, both died. John Thomas was only 11 and his four siblings were aged between 1 and 7 years.
Despite the loss of his male parental figures, John Thomas was employed as an engine wright, repairing steam engines, by the age of 18. He lived with his mother, Martha 38, who worked as a shop keeper, while raising four school-age children, and collected additional income from two lodgers.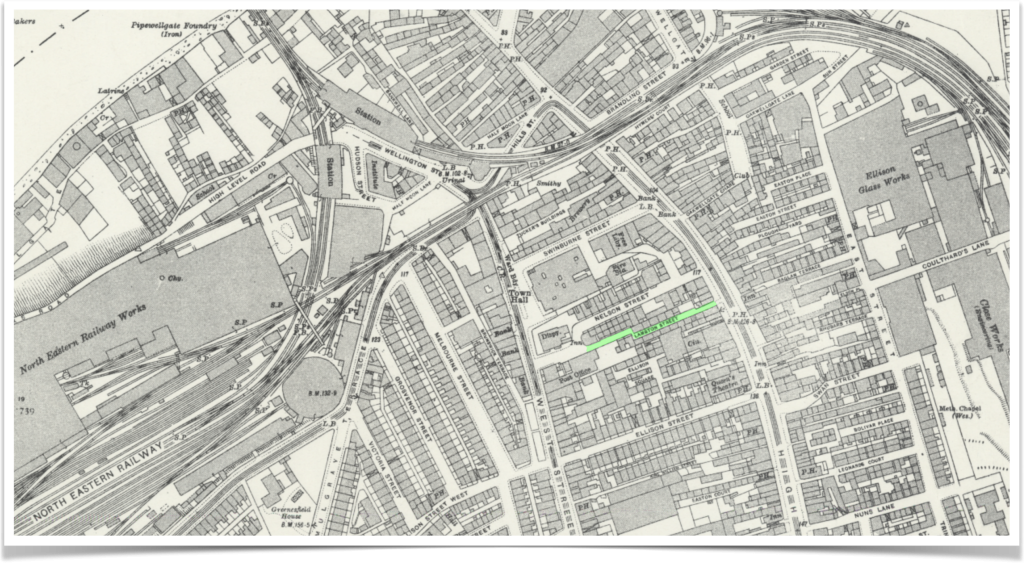 In 1867, 24 year old John Thomas married a very pregnant 17 year old Ann LUMSDON in Newcastle-upon-Tyne. Pregnant brides were not an uncommon sight in Victorian England. The young couple moved into a refreshment house in Neville Arcade, owned by Ann's father. Within three months, their first child, Jane Ann, was born.
Ann LUMSDON was born 21 July 1849 in Alnwick, Northumberland, the youngest of nine children, to Jane SUMMERS & John LUMSDON. The family moved to Newcastle-upon-Tyne in the mid-1850's, where John started an occupation of refreshment house keeper, licensed to sell ale and porter. The family lived in the eating house in Cloth Market and shortly thereafter acquired a second business in Neville Arcade.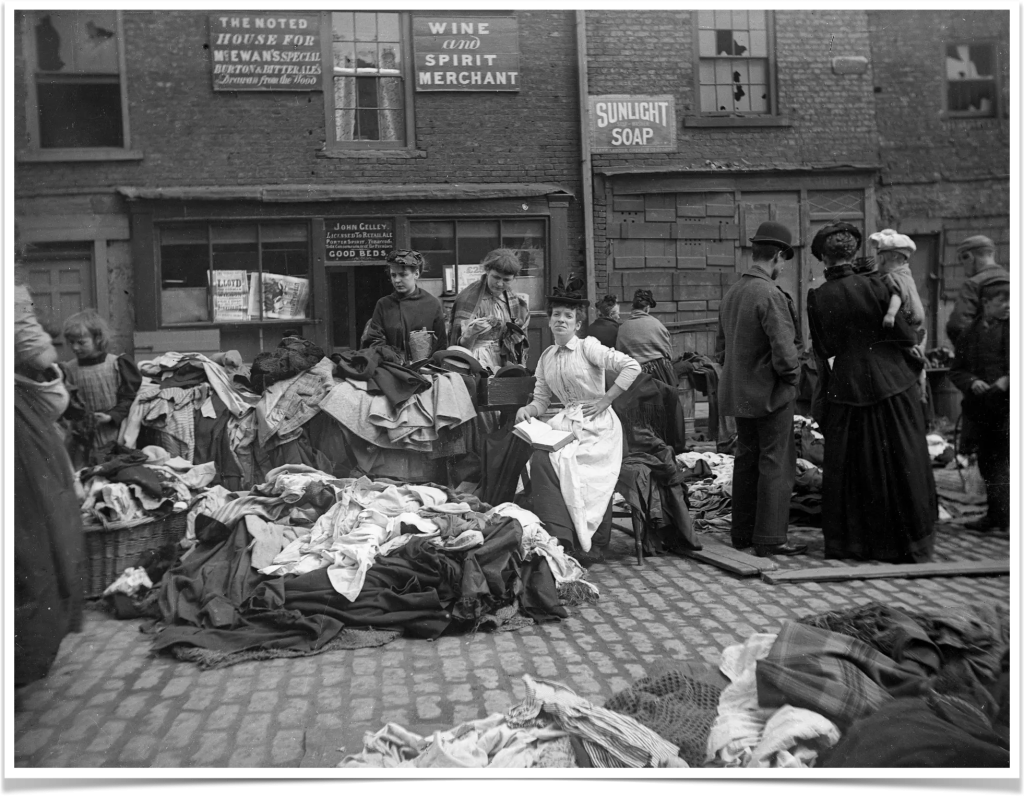 The newly married couple moved into Ann's father's refreshment house in Neville Arcade, with three young children: Jane Ann 4, John Thomas 2, & Elizabeth 7 months. John Lumsdon was battling through bankruptcy proceedings for the refreshment house and eating house, along with cancellation of his beverage license.
After thirteen years together, John Thomas & Ann moved their growing family of five children to York in 1880 where John Thomas was employed as a fitter on the railways. Their sixth child, William, was born in the Loriman's Buildings, in the parish of St Mary Bishopshill, the first of three tenements on Price Street occupied by the family.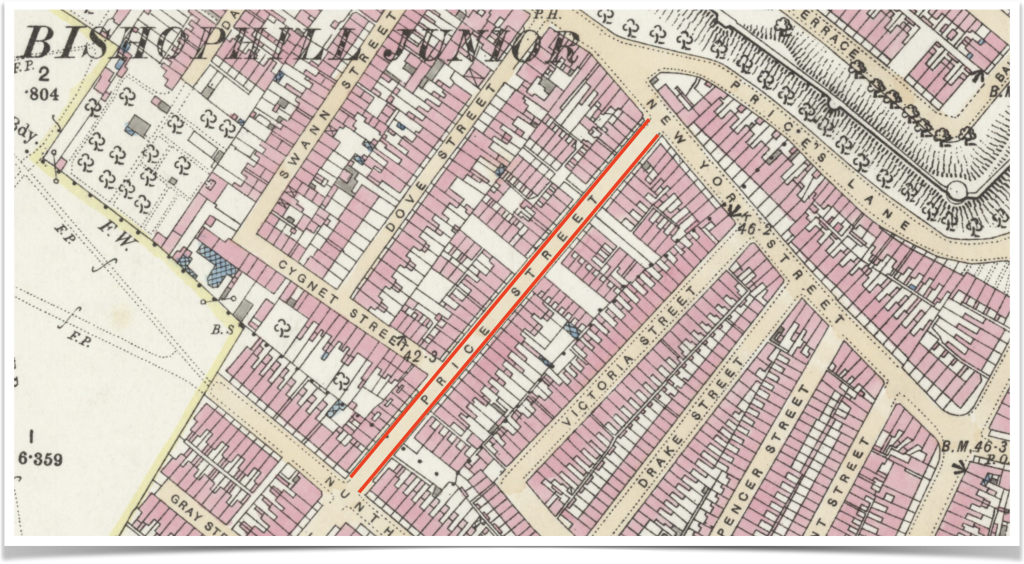 While the Irish immigrants had helped to swell the ranks of the really poor in York during the mid 19th century, the skilled clerks and railway workers, such as John Thomas, formed the other main class of immigrants that became the backbone of a class of prosperous artisans.
They lived alongside the poorer classes in their own colonies near the railway works, out along the Holgate and Acomb Roads. Oxford and Cambridge Streets, Rosary Terrace, and Providence Place off the Holgate Road were heavily settled by railway workers.
No. 3 Rosary Terrace, a mid-Victorian terrace, was the family home to the Edgars, from the mid 1890's onwards. The home was convenient for John Thomas' employment as a Carriage Fitter and Engine Fitter for the Railways until his retirement around 1910. Once their children were out of school, Ann took up the role of Postmaster and the couple made their final move, two streets down, to Stafford Place (too small to appear on the map).
Their children went on to become grocers, nurses, drapers, carriage fitters, and sign writers, and their grandchildren became teachers, nurses, hairdressers, machinists, coach painters, electrical engineers, corn merchants, railway engineers, and aviators. The Edgar family dispersed across the length and breadth of the United Kingdom.
John Thomas lived until the ripe old age of 81, finally succumbing at home in 1924, with the cause of death listed as cerebral hemorrhage and heart failure.

Ann followed a little over a year later in 1925, suffering from chronic bronchitis and ultimately cardiac arrest, age 75, with her son James Albert Edgar in attendance.
Family Tree
Benjamin ONIONS (1795-1853) & Jemima ABEL (1797-1869)

Martha Edgerton ONIONS (1822-1890) & Unknown

John Thomas ONIONS (1842-1924) & Ann LUMSDOM (1849-1925)

Jane Ann Edgar (1867-)
John Thomas Edgar (1869-1947)
Elizabeth Edgar (1870-1956)
Martha Edgar (1873-1968)
Maude Mary Edgar (1875-1968)
Margaret Edgar (1878-1881)
William Edgar (1880-1938)
Margery Edgar (1883-1904)
Robert Edgar (1885-1962)
Adelaide EDGAR (1888-1975) & John Henry BAINBRIDGE (1892-1940)

Charles Reginald BAINBRIDGE (1915-1994) & Winifred May THOMPSON (1920-1977)

James Albert Edgar (1891-1960)
Andrew Edgar (1899-1902)
References
Photo of Lambton Street, Gateshead, 1937, Reference No: GL004366, Gateshead Libraries Local Studies Collection http://www.gatesheadlocalstudies.com/SearchResults/SearchResults#prettyPhoto/2/
Revisit the demolished slums and forgotten streets of old Gateshead, Chronicle Live: https://www.chroniclelive.co.uk/news/history/revisit-demolished-slums-forgotten-streets-8537815
Lost streets of Gateshead emerge from slum clearance picture archive, Chronicle Live: https://www.chroniclelive.co.uk/news/history/gallery/lost-streets-gateshead-emerge-slum-8545835
19th Century Cloth Market, Newcastle upon Tyne, Photographs from the Guardian Eyewitness series, Newcastle Eyewitness: https://www.theguardian.com/uk/picture/2012/mar/30/eyewitness-newcastle-upon-tyne?INTCMP=SRCH
Cloth Market, Railway Station, & NE Railway Works, Newcastle upon Tyne, OS Map 1900, National Library of Scotland: https://maps.nls.uk/geo/find/#zoom=16&lat=54.96790&lon=-1.61390&layers=298&b=10&z=1&point=0,0
John Lumsdon Ale & Porter License Cancelled 1855, Accounts and Papers of the House of Commons, Volume 41: https://books.google.com/books?id=ralbAAAAQAAJ&pg=RA10-PA55&lpg=RA10-PA55&dq=%22john+lumsdon%22+newcastle-upon-tyne&source=bl&ots=JofBaML1Yo&sig=ACfU3U1_cVpQhEd6mJhLowMPTvpGXEZG8Q&hl=en&sa=X&ved=2ahUKEwiSwY7a3tbpAhURuZ4KHfpQAlEQ6AEwCXoECAoQAQ#v=onepage&q=%22john%20lumsdon%22%20newcastle-upon-tyne&f=false
Bishophill, York, Yorkshire, Wikipedia: https://en.wikipedia.org/wiki/Bishophill
Price Street, York, England, OS 25" Map 1841-1952, National Library of Scotland: https://maps.nls.uk/view/125637322
Brief History of Upper Price Street (1842-1911), Ebor Family History: http://www.eborfamilyhistory.co.uk/upstww1/a-brief-history-of-upper-price-street/
Loriman's Buildings, Price Street, York, Search in Newspapers.com: https://www.newspapers.com/image/401820575/?terms=lorimans%2Bbuilding
Map of York 1852, York Maps: https://yorkmaps.net/1852/#17/53.955031/-1.095744
2 Rosary Terrace Auction Listing, 1874: https://www.newspapers.com/image/410181643/
Modern York: Social life, 1835-1900, BHO: https://www.british-history.ac.uk/vch/yorks/city-of-york/pp286-289
Holgate through history: 7 old photos, York Press: https://www.yorkpress.co.uk/news/16242527.holgate-through-history-7-old-photos/#gallery6
Office block studies … Holgate Villa, York Stories: http://yorkstories.co.uk/office-block-studies-holgate-villa/
3 Rosary Terrace, York, England, OS 25" Map 1841-1952, National Library of Scotland: https://maps.nls.uk/view/125637322
Infant Mortality and the Health of Survivors: Britain 1910-1950 By Timothy J. Hatton, Australian National University and University of Essex, March 2009: https://www.ehs.org.uk/dotAsset/bb32eb58-6823-4982-9bd5-6364cad63636.pdf