Wandless Brothers & The Anzacs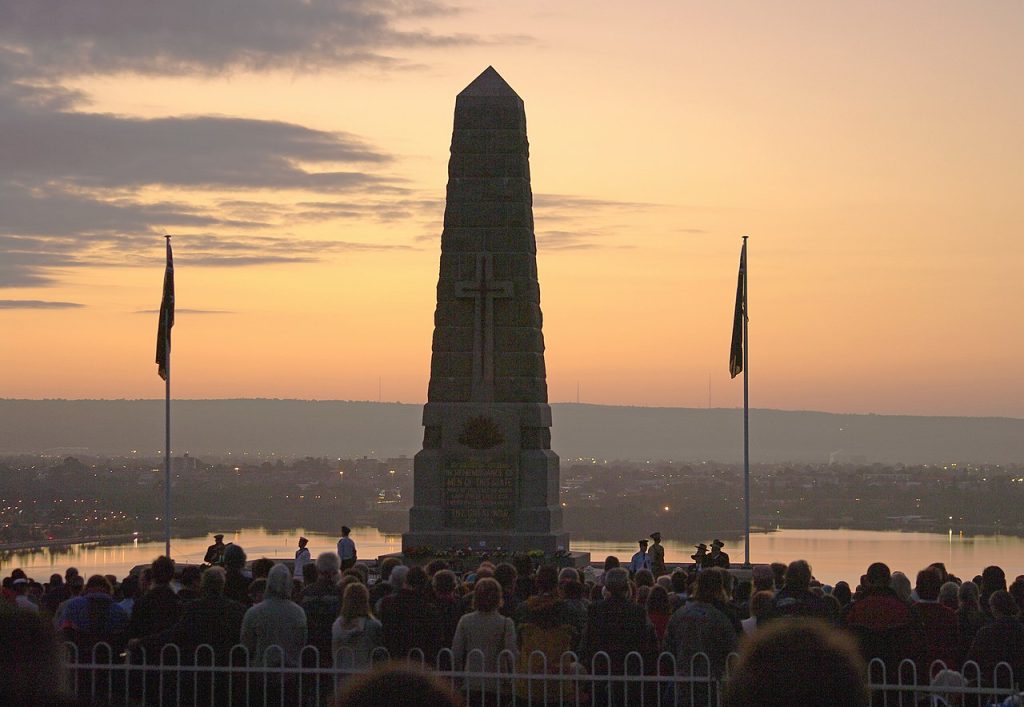 On this Anzac Day, we remember our 4th cousins, Thomas Howson Wandless (1880-1916) & Robert 'Bob' Wandless (1882-1949), brothers who were raised in Western Australia. Thomas was born in England just before the family emigrated, while Robert was the first of the seven siblings to be born down under after the family emigrated in 1881.
Generations of the Wandless family came from County Durham. Thomas & Bob's father, John Walton Wandless, and his siblings were born and raised in Darlington, County Durham. John was the first Wandless from our family to leave the north of England, yet alone emigrate to Australia!
The boys were raised in Jarrahdale, 25 miles west of Perth, a small town built around lumber mills. Their father was a carpenter and his two remaining sons worked at No. 6 Mill, Thomas as as truck loader and Bob as a mill hand. The family relocated to Fremantle shortly before the outbreak of war in 1914, on the eve of their parent's death in 1915.
Australia received news of the disastrous 1915 Gallipoli Landings in modern day Turkey. Despite the questionable success, the military campaign generated an upswell of national pride, encouraging thousands of men to enlist in the war effort.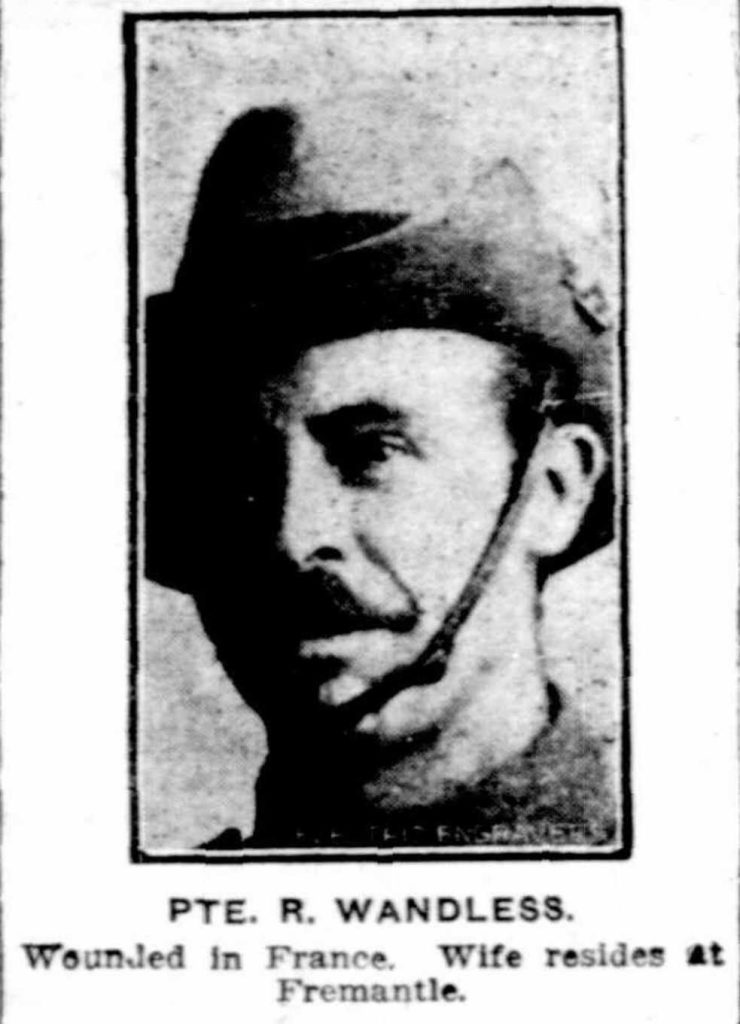 Bob, age 33, enlisted in February 1916 as the 1st Reinforcements for the 44th Battalion, 11th Infantry Brigade. Leaving his wife and five children, Private Robert Wandless embarked for England, 6th June. Transferred to the 51st Battalion, sent over to the Etaples in Northern France, Bob was on the front by November 1916.
After six months Bob was wounded in action, receiving a gun shot wound which caused a fractured ulnar in his left arm. Initially evacuated to Norwich Hospital, Norfolk, in June 1917, Bob was discharged and returned to Australia in November.
Bob returned home to his wife, Emily, and family in Fremantle. Their sixth and final child was born in 1919.
Obituary, The West Australian, September 19, 1949.
WANDLESS: On September 17, 1949, at Nedlands. Robert, dearly beloved husband of Emily Wandless, of 50 Mary Street, Fremantle, loved father of Walter, Les, Syd, Eva (Mrs Harper), Enid (Mrs L Maxted), and the late Bob, father-in-law of Olga, Betty, Vera, Les, fond grandfather of Dawn, Ronald, Sydney, Warren, and Jennifer Wandless and Kaye and Terry Harper; age 66 years.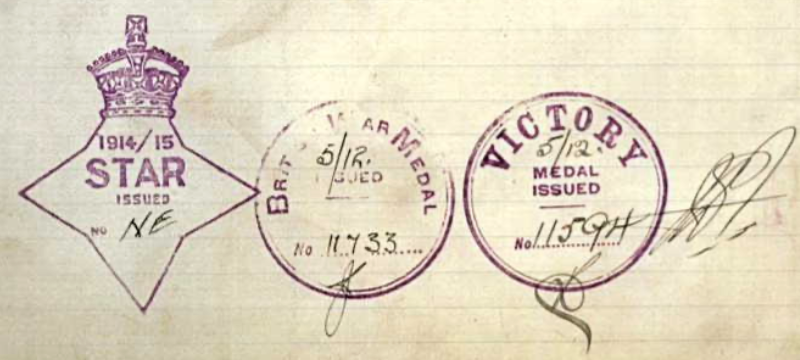 Thomas, age 35, enlisted for service with the Australian Imperial Force for the duration of WWI. Private Thomas H Wandless disembarked his troop ship at Alexandria, Egypt, in February 1916. Thomas had arrived in the Mediterranean too late to reinforce the Anzac landings in Gallipoli, so reinforced the 48th Battalion.
Throughout March and April 1916, the battalion undertook training in the desert before moving to Habieta where they formed a defensive position against a possible Ottoman attack on the Suez Canal.
In June, after a march to Serapeum, the battalion moved by rail to Alexandria and boarded the troopship Caledonia, which sailed for France two days later. They docked at Marseilles on 9 June, after which they were moved to northern France by rail.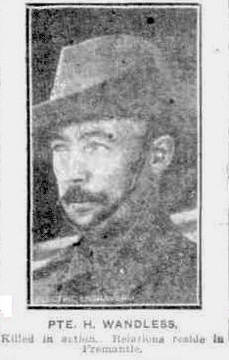 Arriving on the Western Front, the 48th Bn. arrived in time participate in the Battle of the Somme, specifically the Battle of Pozières. The 48th Bn. were defending positions by the Windmill in Sausage Valley under constant heavy barrage from German artillery. The Germans interpreted the sappers digging trenches as reinforcements for another attack, increasing their artillery bombardment.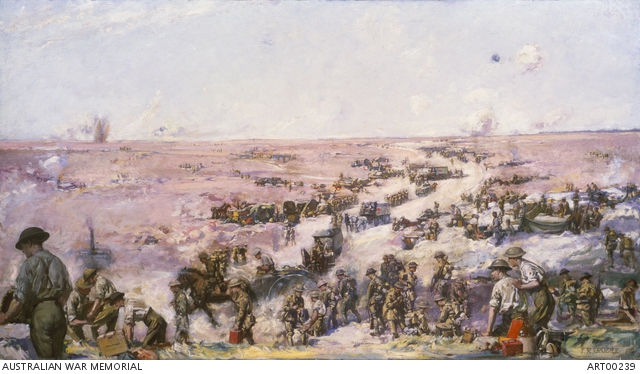 Private Thomas H Wandless was killed in action 6th August 1916, within eight weeks of his arrival in France. Thomas was 1 of 598 casualties in Sausage Valley out of their complement of just over 1,000 men.
Transcript of unit war diary:
8/8/16, Sausage Valley… The Battalion Casualties August 5th to 7th inclusive were.
6 Officers Killed
14 Officers Wounded (mostly Shell Shock)
98 Other Ranks Killed
404 Other Ranks Wounded
76 Other Ranks Missing
… 48th Battalion were relieved on the night of August 7th by the 47th Battalion…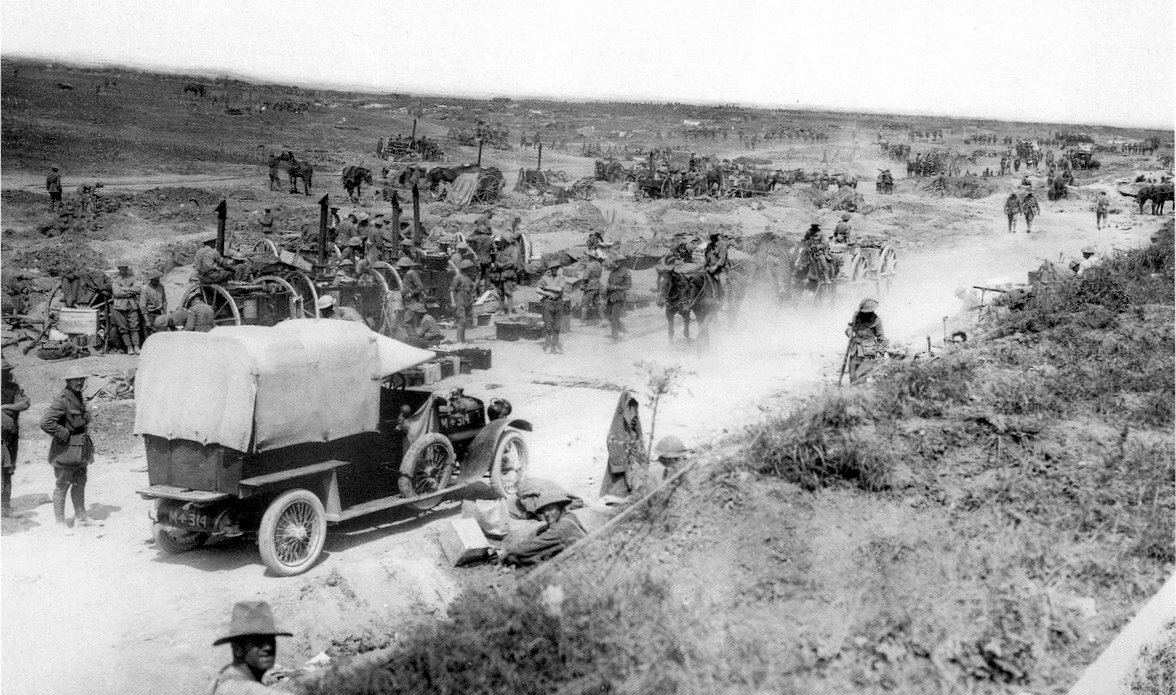 WANDLESS.–In loving memory of our dear brother and uncle, Private Thomas H Wandless, who was killed in action on August 6, 1916.

Killed at the front–what a noble end;
He died his loved ones to defend;
You left Australia your duty to do
And fell like a hero, loyal and true.
He proved himself no shirker,
He fought in honour's name,
He gave his life for an answer,
That's how he played the game.

Inserted by his loving brother Bob (returned) and sister-in-law, Emily and family.

Family Notices, The West Australian, Tuesday 6th August 1918, Trove
Private Thomas H Wandless is buried in Courcelette British Cemetery Courcelette, Departement de la Somme, Picardie, France, Plot II. D. 15.
Family Tree
Our Australian Wandless cousins were 1st cousins to our 2nd Great Grandparents, Thomas WANDLESS (1865-1943) & Alice Ann GRAINGER (1872-1920).
Thomas WANDLESS (1815-1882) & Ann NICHOLSON (1819-1884)

Rachel WANDLESS (1839-1901) & Unknown

Thomas WANDLESS (1865-1943) & Alice Ann GRAINGER (1872-1920)

Annie WANDLESS (1897-1969) & George CLARK (1890-1983)

Alice Wandless (1841-1902)
Elizabeth Wandless (1842-1884)
Thomas Wandless (1846-1915)
Mary Wandless (1849-1888)
John Walton Wandless (1851-1915) & Mary Jane Howson (1856-1915)

Rachel Wandless (1879-1942)
Thomas Howson Wandless (1880-1916)
Robert 'Bob' Wandless (1882-1949) & Emily C Callaghan (1888-1976)
Isabella Wandless (1884-1959)
Elizabeth A Wandless (1886-1944)
Arthur Wandless (1890-1890)
Cecil Wandless (1890-1890)

William Wandless (1854-1929)
Anne Wandless (1857-1947)
References