H Robert Thompson & Vickers Wellington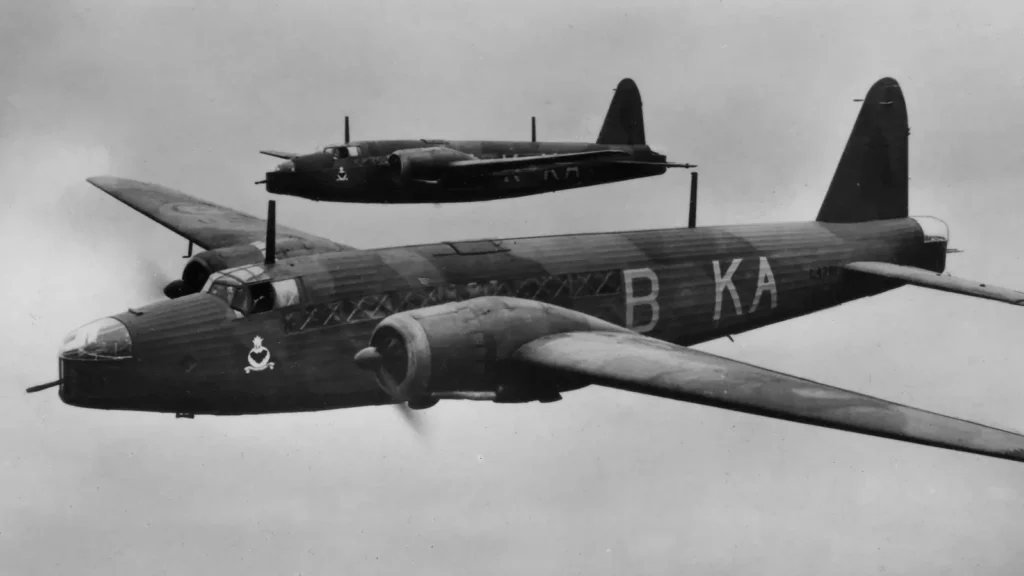 Sergeant H Robert Thompson, Royal Canadian Air Force, was serving with 14 OTU at RAF Market Harborough, training as a navigator on Vickers Wellington medium bombers, having left his new wife, May, in Vancouver, British Columbia.
Prior to enlistment, Robert worked on his father's farm and completed two years studying medicine at Victoria College. He intended to continue studies after the war. Serving with the COTC at the college, Robert had received basic military training 1940-42.
Robert enlisted age 21, 11 April 1942. At 5′ 11″ tall and weighing 150lbs with 20/20 vision, he was prime candidate for service. According to the recruiter; Good average pilot and observer material. Intelligent, quick, enthusiastic, good motives, slightly tense.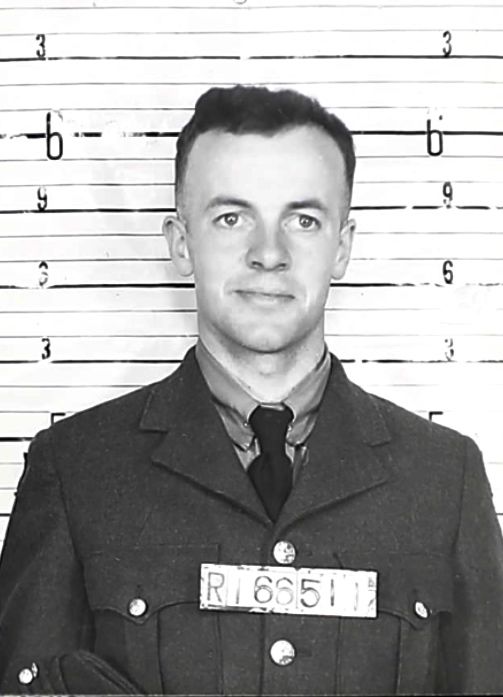 Within six months he was promoted from Air Cadet to Leading Air Cadet Navigator. After completing 131:30 flight hours on an Avro Anson, Robert was awarded his Air Navigator Badge and promoted to Sergeant Navigator in April 1943.
10/18 in class, 73.2%, high average deemed unsuitable for Instructor but suitable for commission. Appearance and bearing good; enthusiastic attitude; pleasant personality; inclined to talk too much.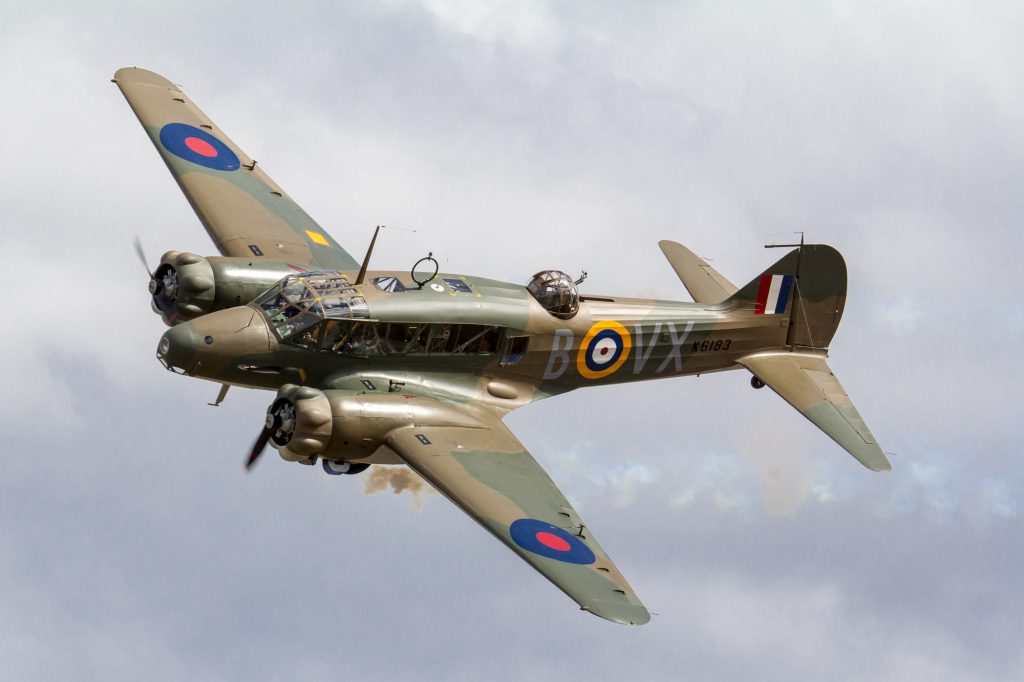 After the outbreak of the Second World War the Avro Anson was put to use as multi-engine aircrew trainer and became the mainstay of the British Commonwealth Air Training Plan. Despite being only four years old at the outbreak of war, the plane was already obsolete in front line combat roles.
With embarkation imminent, Robert was granted 14 days leave for his wedding. Whilst in training in Edmonton, Alberta, Robert had met his fiancé, May Henrietta MacLeod, and on the 6 May 1943 they married in Edmonton. A short honeymoon later and May relocated to Vancouver, British Columbia, while Robert traveled 5000 miles in the opposite direction to Halifax, Nova Scotia.
Robert disembarked for the UK from Halifax on 4 June 1943, landing in England and waiting in Whitley Bay, Northumbria, for his orders. They arrived 7 September as he was assigned to 14 OTU (Operational Training Unit) at RAF Market Harborough, Leicestershire.
The newly reformed 14 OTU at newly opened RAF Market Harborough, flying operations out of the satellite base, newly opened RAF Husbands Bosworth, Leicestershire. The OTU was tasked with the training of crews for RAF Bomber Command in both daylight and night operations, flying Vickers Wellington bombers.
The Vickers Wellington was a British twin-engined, long-range medium bomber. It was designed during the mid-1930s at Brooklands in Weybridge, Surrey. The Wellington was widely used as a night bomber in the early years of the Second World War, performing as one of the principal bombers used by Bomber Command. During 1943, it started to be superseded as a bomber by the larger four-engined heavy bombers such as the Avro Lancaster & Handley Page Halifax.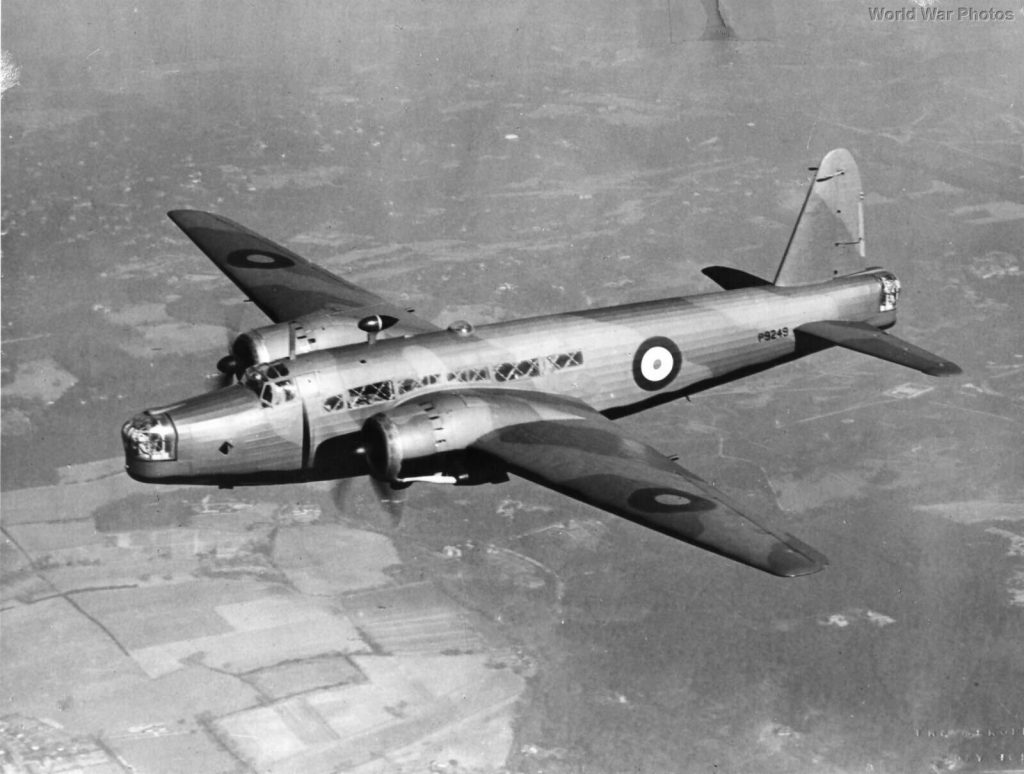 The standard crew of a Wellington consisted of the Pilot, Navigator, Wireless Operator, Air Gunners (x2) and Bomb Aimer. Staff Pilots and Navigators, who had completed a tour of operations with a frontline line squadron (30 sorties), would often perform as additional crew members to train the inexperienced crew, ensuring that the trainees were achieving the correct standard. The OTU courses lasted five months and involved 80 flying hours.
…training at OTUs only comes right at the end of a long period of flying training for each individual. The education of a member of a Bomber Crew was the most expensive in the world, costing some £10,000 for each airman, enough to send 10 men to Oxford or Cambridge University for 3 years.

'Bomber Offensive' by Bomber Harris, Commander in Chief, Bomber Command, RAF
On the night of October 22, just six weeks into training, Robert's crew of pupils took off from RAF Husbands Bosworth:
Sgt Ian Hayward, S/N 1322145, Pilot, Royal Air Force Volunteer Reserve
Sgt H Robert Thompson, S/N R/166511, Navigator, Royal Canadian Air Force
F/S Philip Norton, S/N 426337, Air Bomber, Royal New Zealand Air Force
Sgt Douglas Clarke, S/N 1397327, Wireless Operator / Air Gunner, Royal Air Force Volunteer Reserve
Sgt Harry Longdon Hembrough, S/N 1593684, Air Gunner, Royal Air Force Volunteer Reserve
The crew practiced bombing runs on Grimsthorpe Bombing Range just 35 miles north east of RAF Husbands Bosworth. It was a dark moonless evening and having been recalled with three other aircraft, they headed for home. Flying at 1500 feet (457 meters) the plane was in the neighbourhood of the aerodrome. On approach, five miles out, they lowered their landing gear but never called for permission to land. At 20:15 Wellington W.5688 crashed in a field just south east of Gumley Wood, near Market Harborough. The crew were all killed on impact. The air crash investigator attributed the accident to pilot error, losing control of the aircraft.
… Technical Officer indicates that the pilot was looking for the airfield lights and so let his attention wander from the instruments. It must be assumed that the pilot let the aircraft get out of control, having insufficient height in which to recover. It was a very dark night with no horizon."

W/Cdr P Stevens, Training Wing OTU 14, RAF Market Harborough, 29/10/43
Sgt RCAF (Navigator) Harold Robert Thompson (1921-1943) is buried in the Holy Trinity Churchyard, Stockton on the Forest, North Yorkshire, where the Thompson family worshipped. His first cousin, Leading Signalman Robert Thompson RN (1918-1942), who was lost at sea a year earlier, is remembered alongside him.
Robert is also recognized on an honour roll at former RAF Husband Bosworth, Canada's Bomber Command Memorial, the Canadian Virtual War Memorial (CVWM), and the Commonwealth War Graves Commission.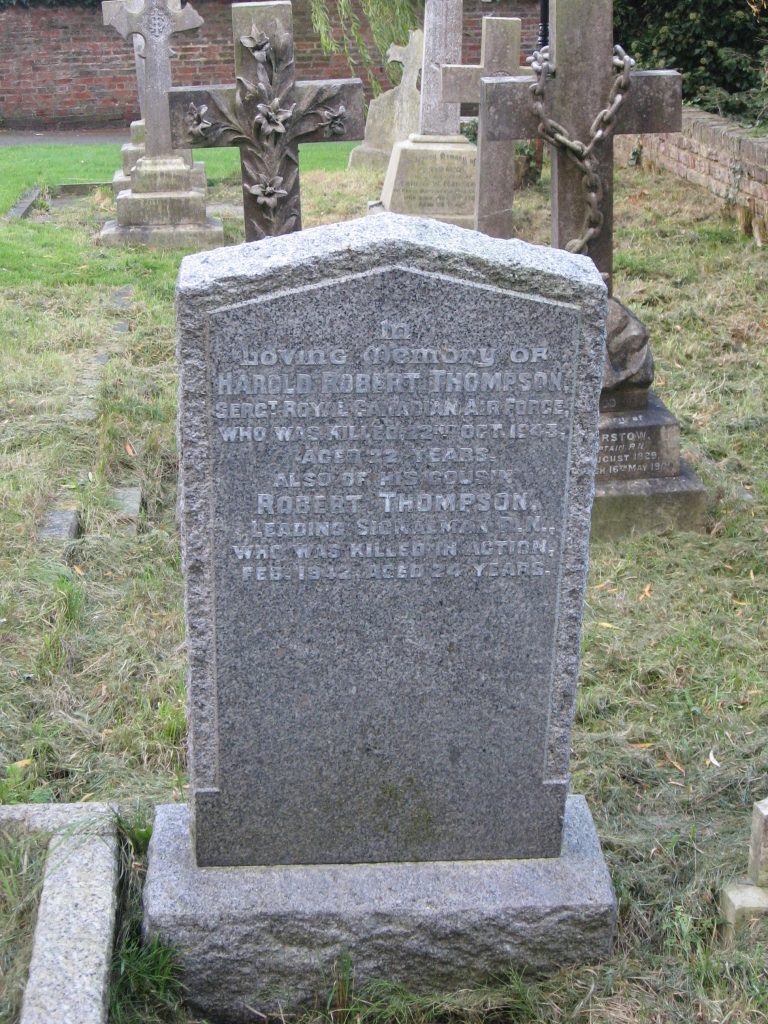 Air Crash Investigation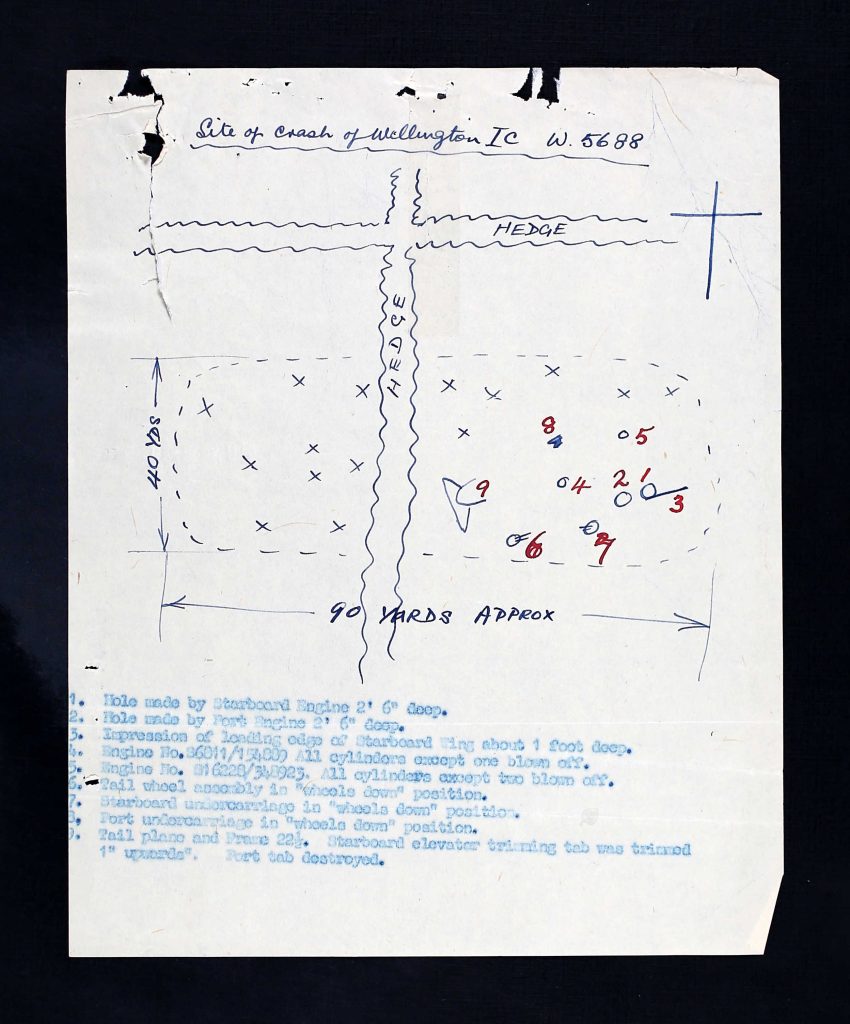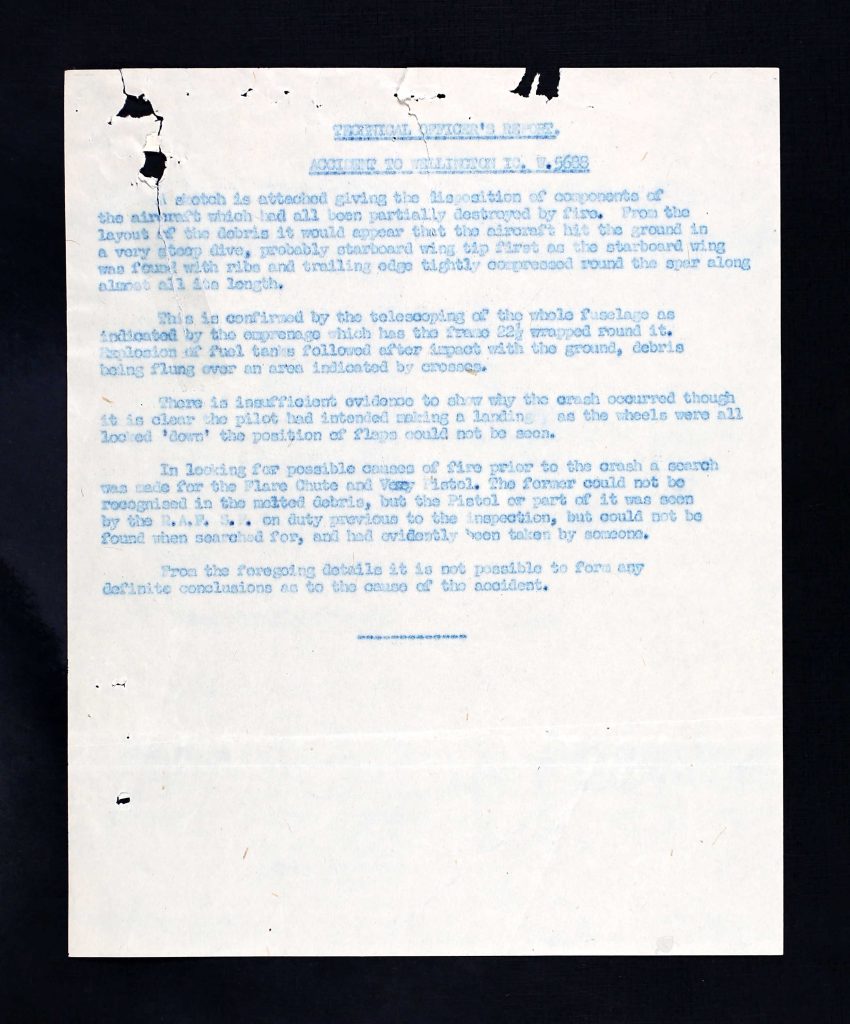 Family Tree
Harold Robert Thompson is one of 31 cousins in his generation, born to the 7 children of Robert THOMPSON & Elizabeth SMITH. Robert THOMPSON (1839-1896) is H Robert's grandfather and our common ancestor who was one of 14 siblings. These are large Yorkshire farming families!
Robert THOMPSON (1839-1896) & Elizabeth SMITH (1849-1907)

George R Thompson (1877-1958) & Jane A Richardson (1874-1950)

Herbert R Thompson (1901-1921)
Gladys M Thompson (1904-1972)
Kathleen E Thompson (1905-1988)
Robert Thompson (1907-?)
Annie I Thompson (1910-?)
Nellie Thompson (1912-1974)

Hannah Thompson (1879-1960) & Richard W Gamble (1870-1942)

Nellie Thompson (1900-1968)
Mary Gamble (1904-1988)
Lucy Gamble (1905-?)
Hilda Gamble (1907-1988)
Annie Gamble (1907-1988)
Kathleen Gamble (1911-1981)
Elizabeth Gamble (1913-?)
Margaret Gamble (1916-1984)
Eva Gamble (1917-1999)
Dorothy Gamble (1922-1923)

James Thompson (1881-?) & Emmie Simnett (1885-1989)

Emmie Thompson (1911-1988)
William J Thompson (1912-1995)
Grace E Thompson (1914-2004)

Ann E Thompson (1883-1949) & James R Richardson (1883-1958)

Kathleen Richardson (1907-1997)
Hazel C Richardson (1922-1997)

Harold Thompson (1886-1960) & Myra Edith Thompson (1887-1979)

Earl D Thompson (1914-1972)
Margaret E Thompson (1915-2001)
Mary E Thompson (1919-1998)
Harold Robert Thompson (1921-1943)

Herbert Thompson (1887-1960) & Gertrude Scott (1887-1967)

Herbert Thompson (1911-1981)
Harold Thompson (1913-1995)
Robert Thompson (1918-1942)
Gertrude Thompson (1920-2002)

William THOMPSON (1891-1964) & Clara Eva BAKER (1893-1962)

Winifred May THOMPSON (1920-1977) & Charles Reginald BAINBRIDGE (1915-1994)
David William Thompson (1930-2015) & Anne J M Golledge (1939-1992)
References