Maggie Mahood's French Connections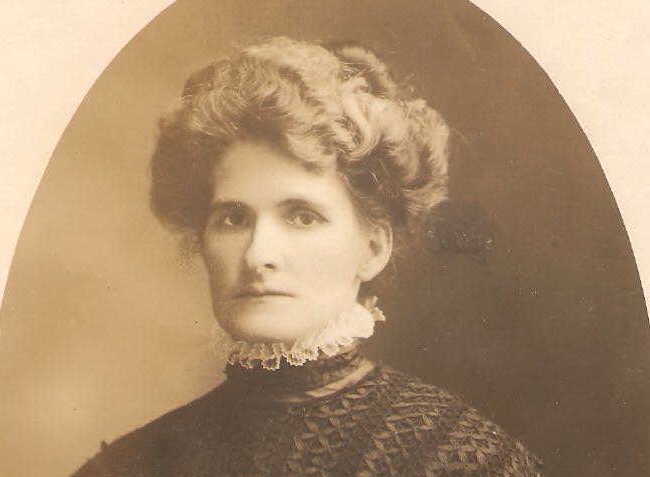 Marguerite "Maggie" MAHOOD was the first child of Eliza Ann BUCK & Sergeant John MAHOOD, Royal Artillery, stationed with the British Army in Ireland. Maggie was born in July 1856, shortly before the outbreak of hostilities in the Second Opium War. Her father shipped out to China before the year's end and would not return for all almost three years.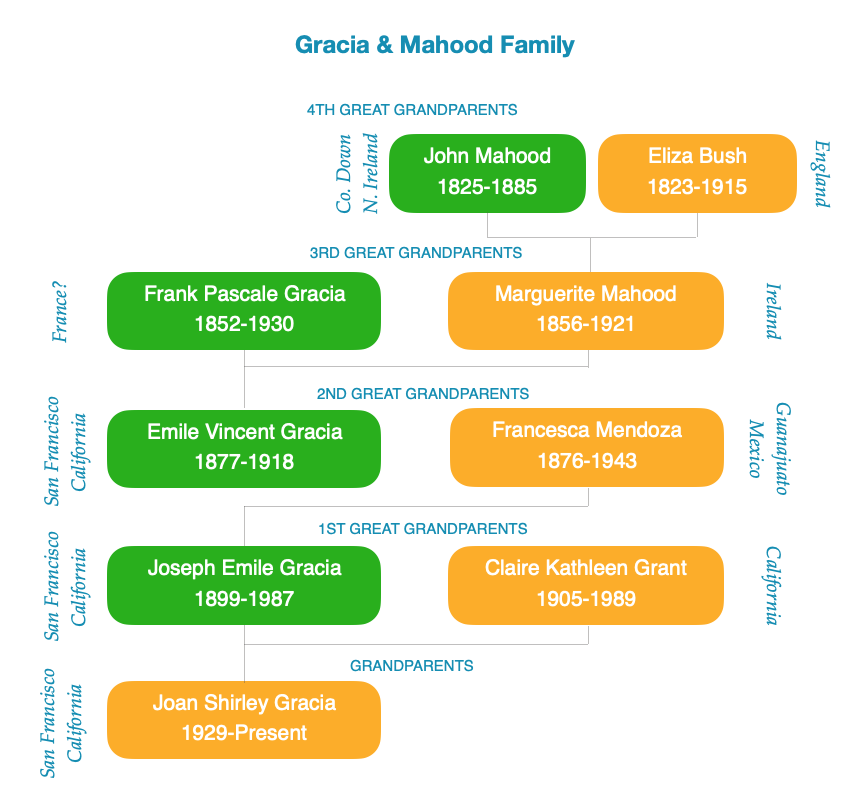 We assume Maggie and her mother remained in the Dublin area during her father's deployment, rejoining him in 1859 when stationed at Woolwich Arsenal, London. Unfortunately John had been infected with Elephantiasis during the Chinese campaign and, after multiple operations at the Royal Hospital Chelsea, was discharged from the British Army as permanently disqualified for military duty. However the discharge officer specified that John would be able to earn a livelihood, reducing his military pension to the fourteen years served without full disability benefits.
Maggie's younger brother, Caduceus John William Mahood was born just four months later in January 1861. Records for the family are non-existent until her father, John, is recruited for a five year contract as an overseer of a Coffee & Cotton Plantation in Tahiti. The whole family pack their bags to leave Europe behind and head for the south Pacific.
Six to eight weeks later 10 year old Maggie and her family were hustled passed the families departing the island and allocated quarters on the 400 hectare plantation. Accommodations for the family were primitive and food rations were limited. As you can read in the story of John MAHOOD, food rations were stopped once her father was placed in solitary confinement for disobeying orders.
Unable to afford passage off the island, the family relocated to the capital, Papeéte. By 1871 they were struggling to make ends meet on her father's meagre pension and her mother's skills as a seamstress. In these desperate times Marguerite, age 14, married a frenchman by the name of Yves Paul Lequellec, a 32 year old cooper. Lequellec had shop in the Fare Ute district, re-purposing calvados (apple brandy) barrels and curing barrels.
The couple produced a son, Joseph John Teuria Lequellec in July 1872. Unfortunately the father missed the birth as he was traveling in France. We cannot be sure if the Yves Paul ever returned to see his wife and newborn son but Maggie's father registered the birth as a child of a legitimate marriage, as noted in this certificate from the French Polynesian archives: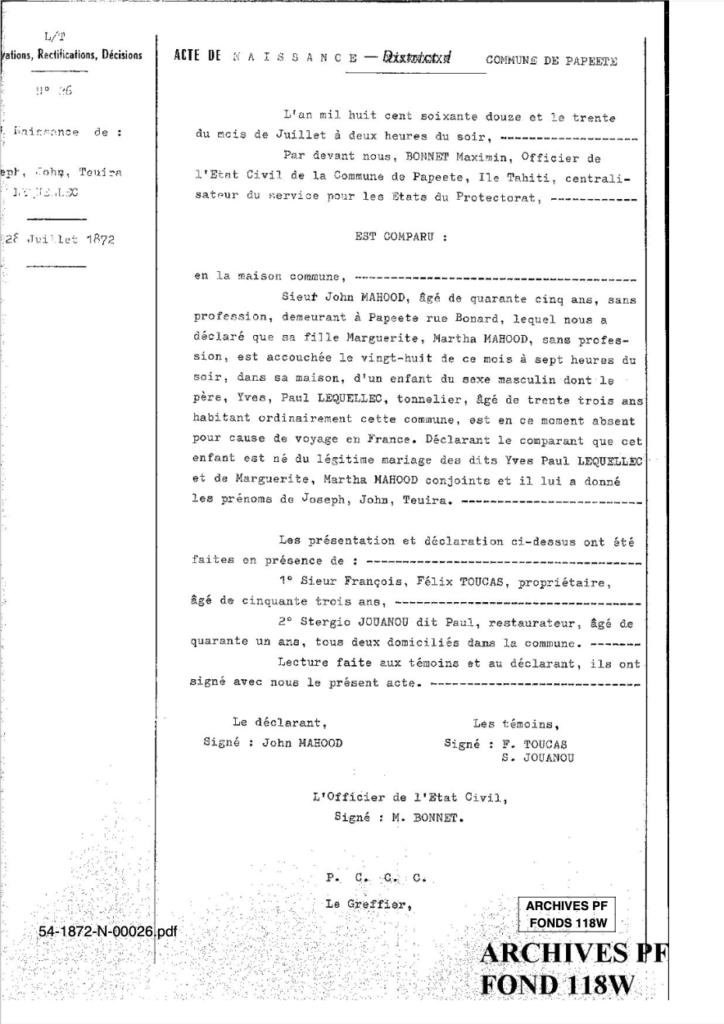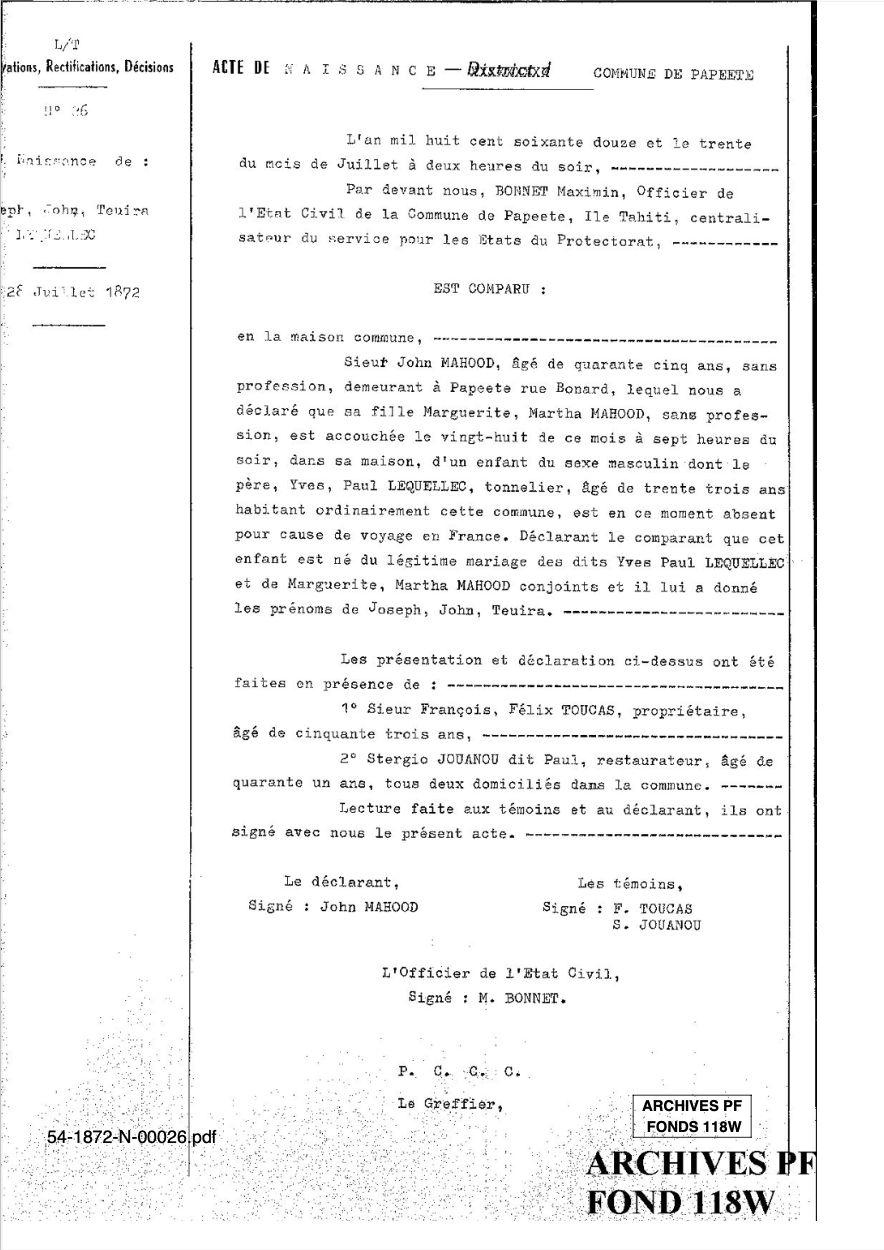 28 July 1872
Papeete, Tahiti, French Polynesia
Birth of Joseph, John, Teuira July 28, 1872 Act of birth ____ town of Papeete, 1872, 30th July, 2:00pm, Before us, BONNET Maximin, The Civil Status Officer of the Municipality of Papeete, Tahiti Island, centralized service for the States of the Protectorate.
In the common house … Mr John MAHOOD, age 45, no occupation, residing in Papeete rue Bonard, declared that his daughter Marguerite, Martha MAHOOD, no profession, gave birth on the 28th July, 7:00pm, in his house, a male child whose father, Yves, Paul LEQUELLEC, cooper, age of 33 years, ordinarily resident in this town, is currently absent from a trip to France. Declaring him appearing that this child was born from the legitimate marriage of the said Yves Paul LEQUEELEC and Marguerite Martha MAHOOD spouses and he gave him the first names of Joseph, John, Teuira.
The presentation and statement above were made in the presence of:
1st Mr Francois Felix TOUCAS, owner, age 53
2nd Mr Paul JOUANOU, restaurateur, age 41, both living in the municipality. Read to the witnesses and the declarant, they signed with us this Act. The notifier, Signed: John MAHOOD Witnesses Signed: TOUCAS F, S JOUANOU The Officer of the Civil Status, Signed: Mr. BONNET. P.C.C.C. The Registrar
Two years later, Maggie's mother paid $180 for passage to San Francisco aboard the schooner, Maggie Johnson, however her father was not on the manifest. The shipping records are few and far between for journeys across the Pacific Ocean but we can assume John arrived in San Francisco and found sufficient work to pay for the family's passage.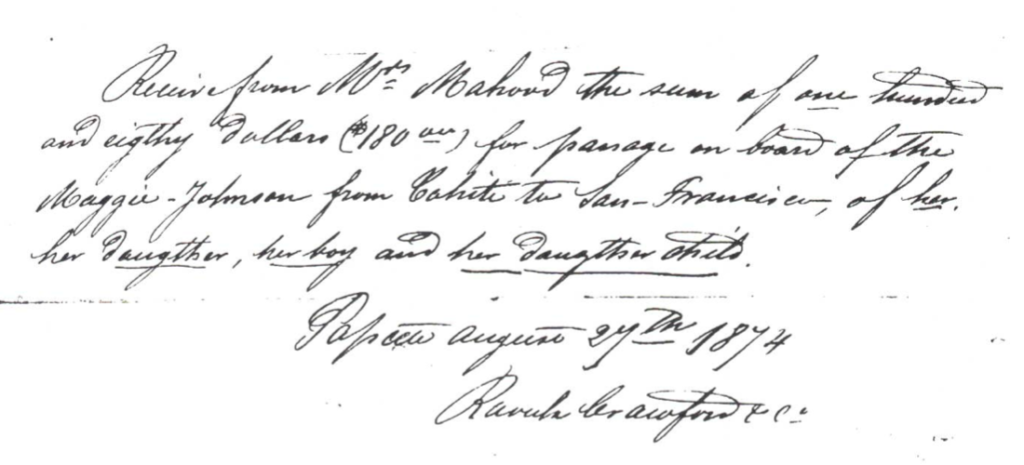 In advance of Maggie's arrival in 1874, her parents, John & Eliza adopted her infant son as their own son and therefore arrived in San Francisco with two siblings: Caduceus 12, and Joseph 2. Marguerite's date of birth was moved by three years to 15 years of age, enabling her to enter the USA as a minor.
The family sourced accommodations on Dupont Street, now Grant Ave, the main street in Chinatown, which was actually San Francisco's first street. This area used to be about a block from the bay, before land reclamation, and was essentially the first port of San Francisco. Chinatown was a rough place, with thousands of poor immigrants from southern China packed into miserable, unsanitary tenements.
Marguerite worked as a dressmaker, her brother Caduceus became a clerk and telephone operator at the American District Telephone Company, her father John procured work as laborer, and mother Eliza resumed her work as a seamstress.
Life was hard in San Francisco, especially for her father, attempting to support his family with intermittent labour jobs and long periods of unemployment. We cannot begin to imagine the daily pain of living with an incurable illness and the limited benefits of the prescribed Quinine medication.
During her father's initial commitment to the asylum for quinine toxicity, Marguerite married another Frenchman, Francois GRACIA, and gave birth to a son Emile Vincent GRACIA, although the order of these events is yet to be determined.
Frank GRACIA or Francois Pascale GRACIA was purportedly born in France in 1852 and emigrated to the USA in his early twenties, however there are no records before his relationship with Marguerite.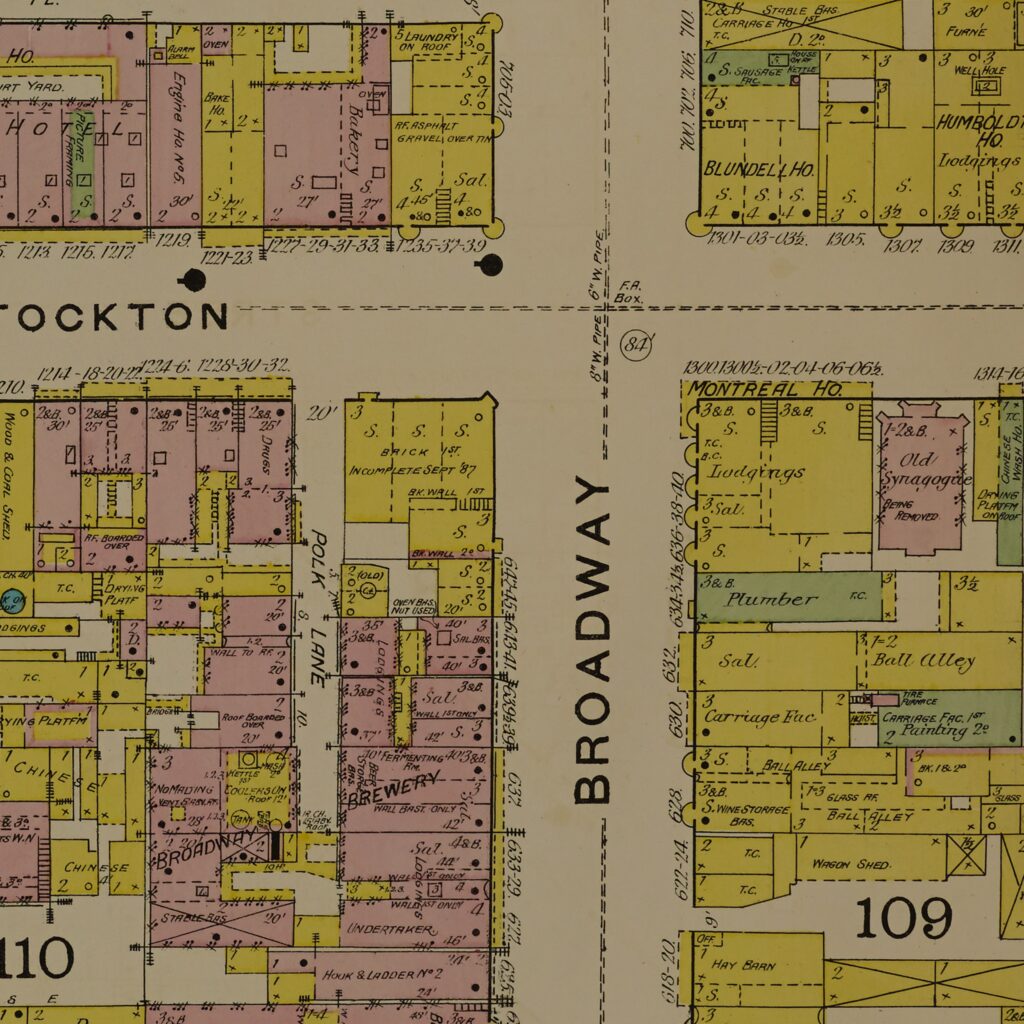 The couple initially lived at 13001/2 Stockton Ave, Montreal House, a three story lodgings and saloon at the corner of Stockton & Broadway, where Frank worked as a hotelier and lodging house manager. Marguerite, aka Maggie, worked as dressmaker while raising their growing family.
As you will note on the map below, the neighborhood was diverse with hotels, fire stations, laundries, saloons, lodging houses, sausage factory, soft furnishings, furniture store, carriage factory, ball alleys, stables and hay barn, brewery, and an undertaker, all within half a block. You can read more lurid tales of Montreal House.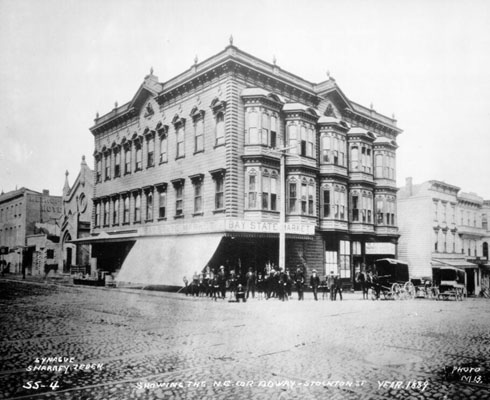 Montreal House was the center of many lurid headlines in the San Francisco press. Tales of love, loss, and addiction, were countered with heinous criminal acts, providing an insight to the personalities living in this second-rate boarding house.
$10 fine for selling Liquor on Election Day 11 Sep 1880, Sat The San Francisco Examiner (San Francisco, California) Newspapers.com
The family remained in China Town for almost thirty years across four addresses. Frank became a naturalized citizen in August 1881, worked as a bar tender and waiter, but appears to be more often unemployed than not. Maggie continued to work as a needlewoman which appears to be common amongst those raising children in San Francisco.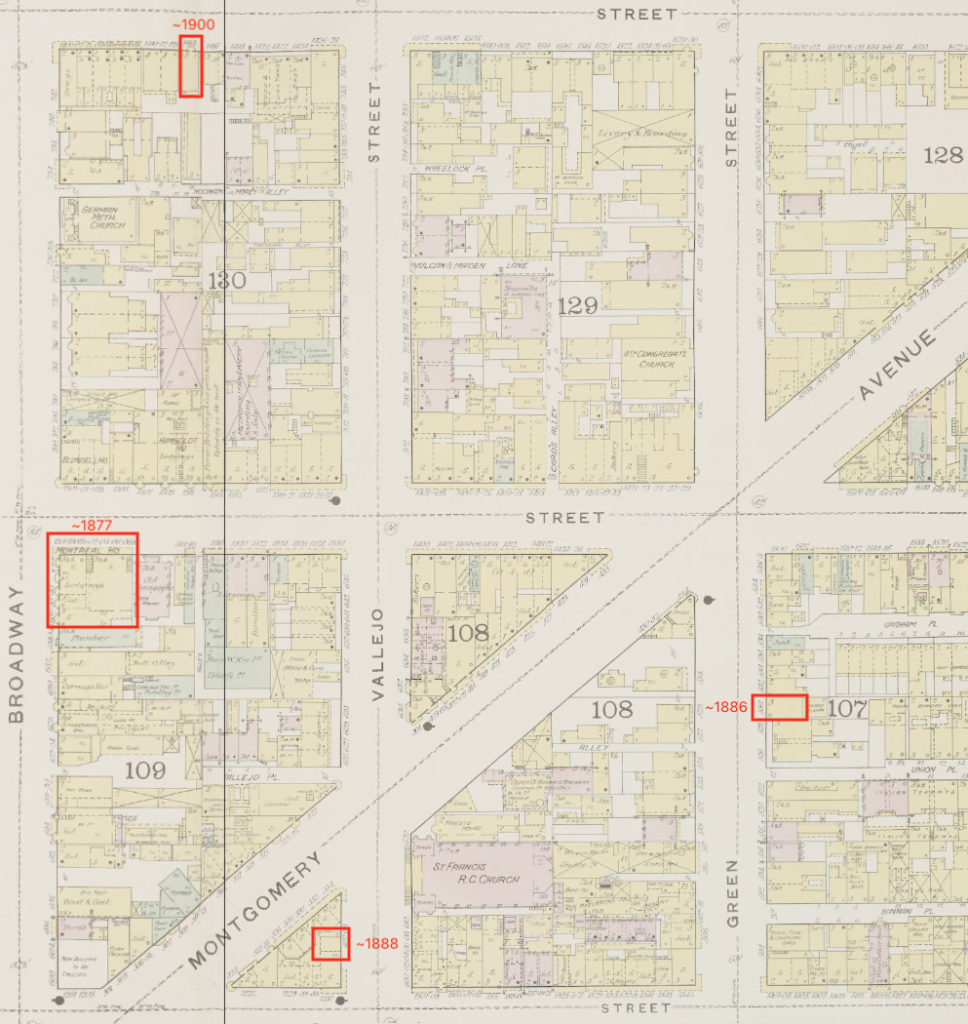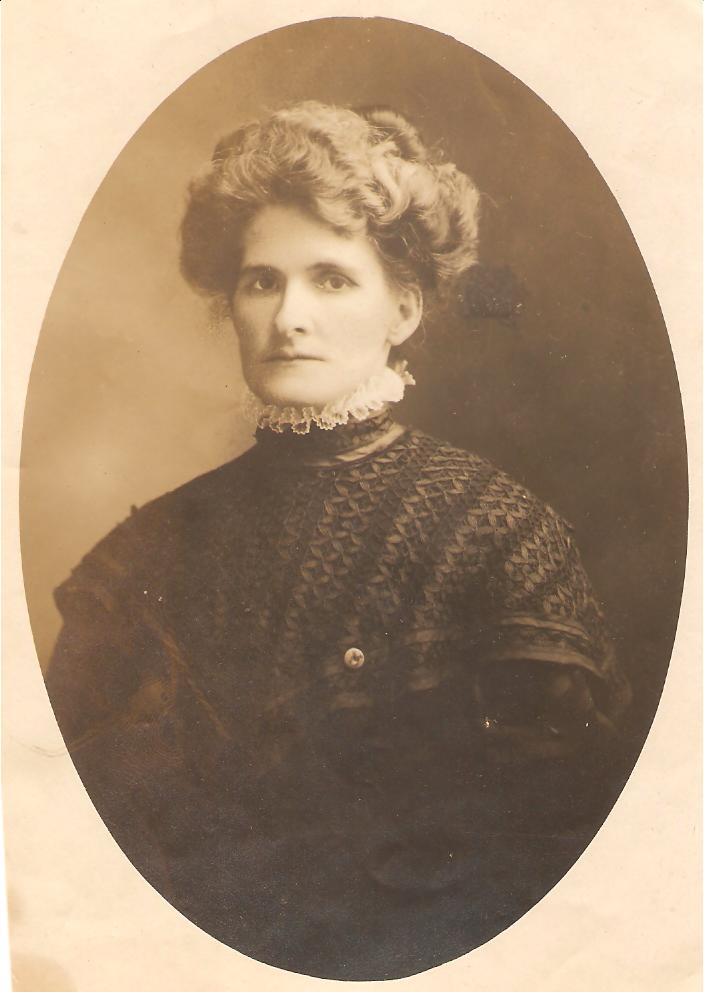 By 1900, both Maggie & Frank had been unemployed for almost a year. Living on Powell Street they shared a home with a Portuguese family of three. Raising their family was further complicated when their son, Frank Gracia, suffered from Pleuro Pneumonia and spinal meningitis, resulting in him being held back in school, age 11. As noted by the horrifying article below, Frank looked developmentally like an 8 year old.

Shortly after the turn of the 20th century, the family moved out of China Town, relocating to Surrey Street in the University Hills neighborhood of San Francisco, on the same block as Joseph, Maggie's son from her first marriage. Maggie & Frank were both still unemployed but lived with her mother, Eliza Ann, and shared her widow's military pension. The only working member of the household was their previously sickly son, Frank, a messenger at WW&Co but, even he was out of work for six months in 1909. The youngest son's Firmin & William are still attending school.
Maggie's mother, the family matriarch, passed away in 1915 and the family moved, less than half a mile, to their final address — 55 Capistrano Ave. In 1919 their son Ernest and daughter-in-law Fay shared the address and are listed in the 1920 census. Maggie & Frank are both listed with no occupation in the mortgaged property.
Marguerite "Maggie" Mahood passed away at home March 27, 1921, with the cause of death listed as Myocarditis.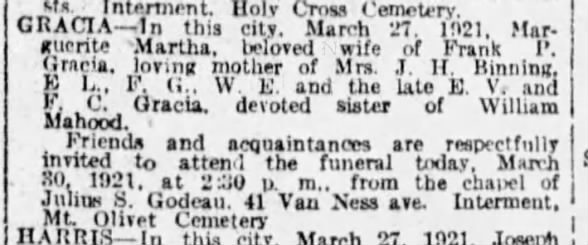 The widowed Frank found work as a cook and continued to live with Ernest & Fay on Capistrano until they moved to the Mission, then Outer Mission, and finally to the Mission Excelsior neighborhood of San Francisco.
In this city, Dec 13, 1930, Frank P dearly beloved husband of the late Marguerite Gracia, father of Ernest L, Frank G, William E, and Mrs J H Binning and the late Emile V. and Firmen Gracia. A member of Ligue Henri le IV. Friends are invited to attend the funeral Wednesday, December 17, 1930, at 2:00pm from the mortuary of Julius S Godeau, Inc. 41 Van Ness Ave.
Frank was laid to rest alongside Marguerite in Olivet Memorial Park, Colma.
Marguerite was pre-deceased by three of her children: Joseph J T Lequellec who left behind a wife Mary and six children; Emile Vincent GRACIA died of colon cancer, age 41, leaving a widow, Francesca, and twelve children aged 2-19 years; and Firmin C Gracia who died age 21.
As for their descendants, Mildred Cleo Gracia married John Henry Binning, an optician, remained in San Francisco and raised four children. All the boys were musicians: Ernest Leo Gracia married twice, ultimately living out his life in Daly City. Frank G Gracia married twice and raised three daughters, remaining in San Francisco. William Ernest was a musician at the Warfield Theatre, amongst other jobs, married a Swede, and raised four children.
Family of Marguerite Martha MAHOOD
Parents
Spouses & Children
Marguerite Martha MAHOOD (1856-1921) & Yves Paul Lequellec (1839-?)

Joseph John Teuira Lequellec 1872-1913

Marguerite Martha MAHOOD (1856-1921) & Francois Pascal GRACIA (1852-1930)

Emile Vincent GRACIA (1877-1918) & Francesca Juana Medina MENDOZA (1876-1943)

Joseph Emile GRACIA (1899-1987) & Claire Kathleen GRANT (1905-1989)

Mildred Cleo Gracia (1879-1949)
Ernest Leo Gracia (1889-1962)
Frank G Gracia (1891-1956)
Firmin C Gracia (1897-1918)
William E Gracia (1901-1978)