Bill Gracia & Cupertino Foothills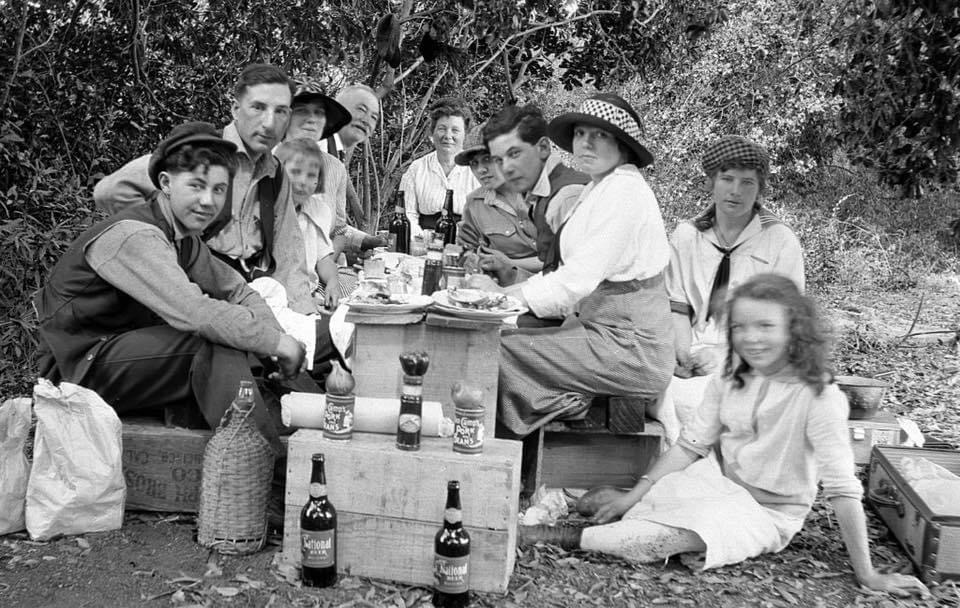 William "Bill" E Gracia (1901-1978), our 2nd Great-Granduncle, was the youngest of seven children born to Maggie MAHOOD (1856-1921) & Frank P GRACIA (1852-1930). Bill is sat on the far left of this historic Gracia family photo. The occasion for the picnic is the celebration of Bill purchasing this property in the Cupertino Foothills during the summer of 1915.
By the age of 14, as a first generation immigrant, Bill had saved up the $5.00 down payment and a monthly payment of 50¢ to own the property. Factoring inflation, that equates to $150 down and $15 per month in 2023. The family have retained the property for more than a century and Bill's youngest daughter still lives there.
The picnic table and chairs appear to be fruit boxes, very common place with the orchards of Silicon Valley at the time. The Van Camps Pork & Beans cans are still a recognizable brand today and are still available in grocery stores. The National Beer and carafe of wine are displayed along with fresh onions and bell peppers; what is in the paper tube behind the cans of beans? The open suitcase/picnic hamper (right) would have been strapped on the trunk of the car(s) while they drove the 40 miles down from San Francisco.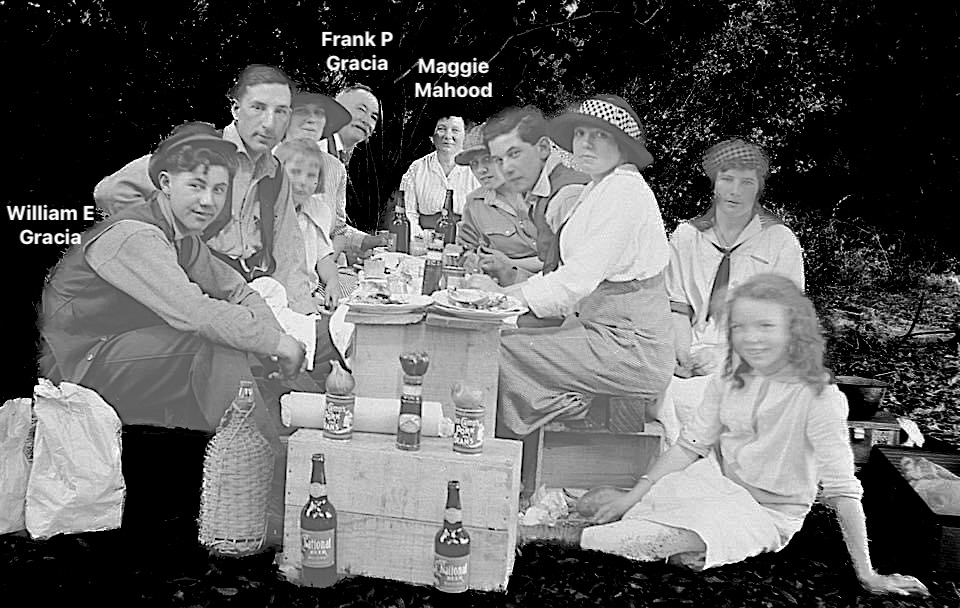 Family Tree
Marguerite Martha MAHOOD (1856-1921) & Yves Paul Lequellec (1839-?)

Joseph John Teuira Lequellec (1872-1913)

Marguerite Martha MAHOOD (1856-1921) & Francois Pascal GRACIA (1852-1930)

Emile Vincent GRACIA (1877-1918) & Francesca Juana Medina MENDOZA (1876-1943)
Mildred Cleo Gracia (1879-1949)
Daisy Florence Gracia (1882-1886)
Ernest Leo Gracia (1889-1962)
Frank G Gracia (1891-1956)
Firmin C Gracia (1897-1918)
William E Gracia (1901-1978)