Marchetti & Togliatti V State of Utah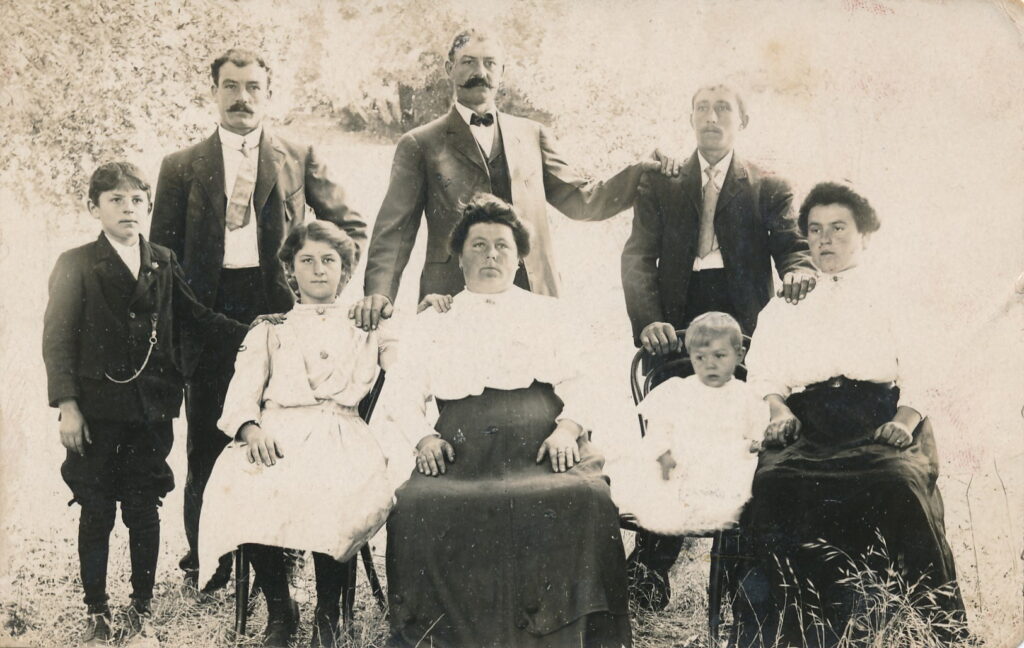 The Marchetti & Togliatti families emigrated from Balangero, Piedmont, Northern Italy, just 16 miles northwest of Turin. Emigration commenced at the turn of the 20th Century and within 13 years both families had emigrated to the USA. The families embarked from Italy, taking multiple paths, but all ultimately passed through the copper mining town of Bingham Canyon, Utah.
Immigrants had been flooding Bingham Canyon since the 1870's. Starting with the Irish, English (mostly Cornish miners), Chinese & African Americans working as water carriers, followed by Finns and Swedes, known for their strength, and then Italians.
The Italians followed, mostly Piedmontese, who were proficient at hammer work. They were also adept at leverage, and their stocky build and short legs gave them the nickname "Short Towns." In the early 1900's the Eastern Mediterranean and Balkan peoples came. Slovenes, Croatians, Serbs, Greeks, Italians, Armenians, and Montenegrins gave Bingham a color unmatched anywhere in Utah except in the Carbon County coal fields.

Life and Labor Among the Immigrants of Bingham Canyon, ISSUU
In 1902 Enrico "Henry" T MARCHETTI, age 33, departed Cherbourg, France, listed as a smith traveling with two miners bound for Mercur. The gold mining town of Mercur was totally destroyed in an explosion before his ship landed in New York. As a result Henry was destined for Bingham Canyon.
Six months later Henry's wife of five years, Mary TOGLIATTI, age 25, and their two children, Jacoma "James" MARCHETTI 2 & Angela "Angeline" Marchetti 4, travelled with her brother-in-law Cesare Marchetti and brother Giacomo "James" Togliatti, to settle in Bingham Canyon. These first migrants would be followed by the rest of the family over the next decade.
The Intermarriage of Marchetti & Togliatti Families



The week to ten day trip in steerage aboard a cramped and crowded steam ship was the second leg of the journey, having travelled 600 miles from Turin, Italy, across France to the channel port of Le Havre. Having passed through Ellis Island, New York, the family was confronted by a transcontinental railroad journey to Chicago on the New York Central & Hudson River Railroad, changing to the Burlington Route from Chicago via Omaha to Salt Lake City.
…third-class occupants were often emigrants hoping to make a new start in the West. A third-class ticket could be purchased for only $40–less than half the price of the first-class fare. At this low rate, the traveler received no luxuries. Their cars, fitted with rows of narrow wooden benches, were congested, noisy and uncomfortable. The railroad often attached the coach cars to freight cars that were constantly shunted aside to make way for the express trains. Consequently, the third-class traveler's journey west might take 10 or more days. Even under these trying conditions, few travelers complained. Even 10 days spent sitting on a hard bench seat was preferable to six months walking alongside a Conestoga wagon on the Oregon Trail.

Express train crosses the nation in 83 hours, History.com

Bingham Canyon, located in a narrow canyon on the eastern face of the Oquirrh Mountains, was booming during the arrival of the Marchetti and Togliatti families. At its peak the city reached approximately 15,000 residents. The most significant development occurred in 1903 when the Utah Copper Company began surface mining. The mine prospered and brought a tremendous influx of new residents into the canyon.
Gambling, drinking, bulldog fighting, and cock fighting now took precedence over the simple pastimes of the trackmeets and feats of strength. By 1900 there were 30 saloons on Main Street. "Old Crow" and "16 to 1" were the favorites. The young, unattached men at the peak of their strength could not and, from the period's court notes it is obvious, did not try to control their restlessness. Disturbing the peace, assault, mayhem, and killing vied with death and maiming of mine accidents to keep the town in continuous excitement.

Each minority was a labor gang in itself, with a foreman who could speak English, and formed its colony around boardinghouses. Names, nostalgic now, immediately told much: Frogtown, where the natives lived; Yampa, a miniature town formed around the Apex Mine; Japtown; Dinkeyville, where powder-box cabins were built on company land; Highland Boy and Phoenix, where the Austrians and Slavs lived; Copperfield, where the Greeks had their boardinghouses; and Carr Fork, where Finns and Swedes had congregated.

Life and Labor Among the Immigrants of Bingham Canyon, ISSUU
The youngest Marchetti sibling, John T, arrived in Bingham two years later in 1905, one year ahead of his 18 year old fiancé, Margherite Togliatti, who was accompanied by her future brother-in-law Giacomo "James" Marchetti, a miner. John & Marguerite were married within a month of her arrival.
Newly weds, John T Marchetti & Marguerite Togliatti, did not to settle in Utah and relocated to Gilroy, Santa Clara County, California, where their son, Frank Cesare, was born November 1908. The passenger rail service from Salt Lake to San Francisco would have made this journey more feasible and affordable.

The youngest Togliatti sister, Josephine (Guiseppina), married in Balangero aged 15 years, before emigrating to Bingham Canyon in August 1906. Her husband Joe Perino had spent almost two years working as a copper miner before return to Italy to marry. They only remained in Utah long enough to see the birth of their first child, relocating to Arizona for their second child.
These migrations westward triggered the next wave of movement for the family. The short journey by rail to San Jose/Gilroy would take a couple of days which would be considered minimal compared to their initial journey from Italy. Bingham Canyon, a frontier town with brutal winters, hot dry summers, and no drinking water, was not conducive to raising a family. Furthermore, discrimination towards immigrants was rife.
As John & Marguerite departed, Samuel Togliatti relocated from mining the coal fields of Illinois, to work in the quartz mines of Bingham Canyon with his wife Maria Coziatti and two children. Their third child was born in Bingham Canyon, 1908. Illinois, Utah, and California were the primary destinations for southern and eastern European immigrants in the early years of the 20th century.
The story of immigrant labor within the Bingham Canyon Mine paints a picture representative of Utah's simultaneous employment of, and discrimination toward, immigrant workers. Immigrants were paid considerably less for much harder work. Average pay for the Southern and Eastern Europeans was about $1.50 to $1.75 per day, about half of what the Anglo workers were making. At the time, many immigrants were simply happy to have steady work, something that would have been a luxury in their home countries.

Intermountain Histories: Immigrants at the Bingham Canyon Mine
According to the 1910 Federal Census in Santa Clara County, California, Henry Marchetti & Mary Togliatti worked as Farmers next door to Farmers, Caesar Marchetti, John & Marguerite Marchetti. The families had reunited in California. Tragically in the census, Henry & Mary list only two of four children are alive, Angeline and James, which suggested they lost two children in infancy while in Utah. This may have been the impetus for the migration westward.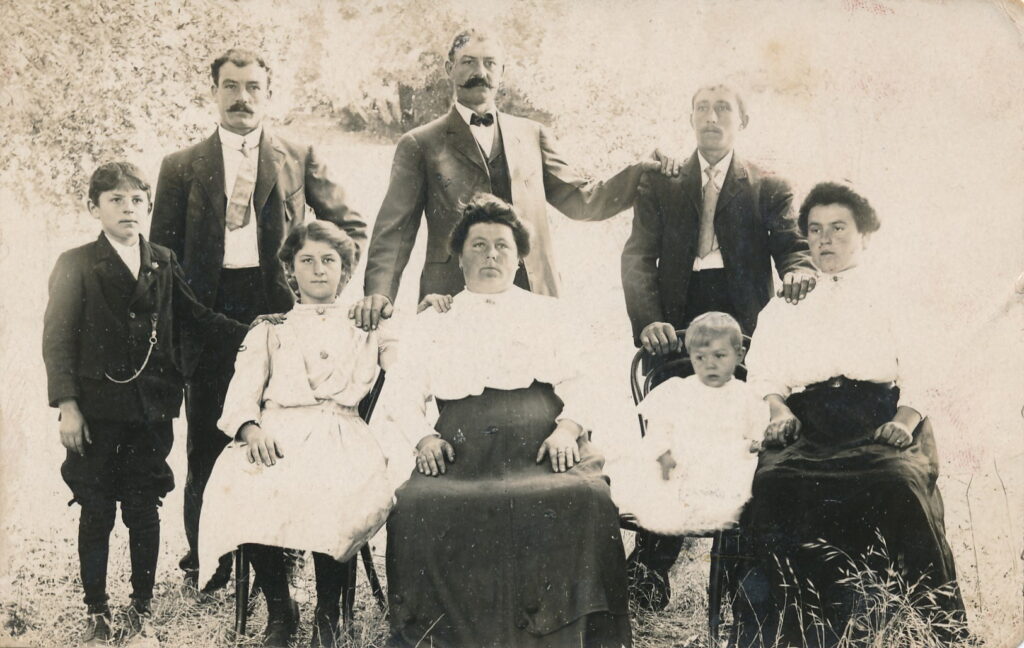 The same 1910 census, for Bingham Canyon, Salt Lake, Utah, contains the only documented reference to the eldest Marchetti sibling, Andrew Marchetti, a married 41 year old quartz miner. No wife is listed for Andrew but lived with his brother-in-law Samuel Togliatti, also a quartz miner, wife Mary and their four daughters. In the same household Giacomo Togliatti is listed as a bakery delivery man, awaiting the arrival of his wife, Minnie. Aside from a brief visit to Italy in 1905, the couple have spent the majority of their married life apart. Giacomo found work as a Saloon Man and as soon as Minnie arrived started a family. Minnie gave birth to four children in four years, however they lost one child in infancy.
The remaining family in Bingham Canyon transitioned to work as saloon keepers and and grocers. They welcomed the 1914 arrival of their parents (in-law), John Battista TOGLIATTI and Rosa CALVETTI. Unfortunately the Atlantic crossing and trans-continental railroad journey was too much for 59 year old Rosa. She was admitted to hospital within days of arrival and died from apoplexy 21 days later.
The youngest Togliatti sibling, Andres "Andrew" arrived in Bingham Canyon late in 1916 having travelled from Buenos Aires, Argentina. He joined the Togliatti family who lived on Main Street, Bingham Canyon, owning multiple adjoining properties including Sam and Giacomo's grocery store businesses.
1918 was not a good year. Giacomo, Sam, and his 7 year old son John were all injured when their horse drawn cart was rear-ended by an out of control automobile. Giacomo had severely bruised hip, Sam had a fractured spine, and John fractured his wrist and received severe bruises on left shoulder and forehead. Having recovered from his injuries, Giacomo Togliatti died of Spanish flu later that same year, leaving his widow, Minnie, with three young children.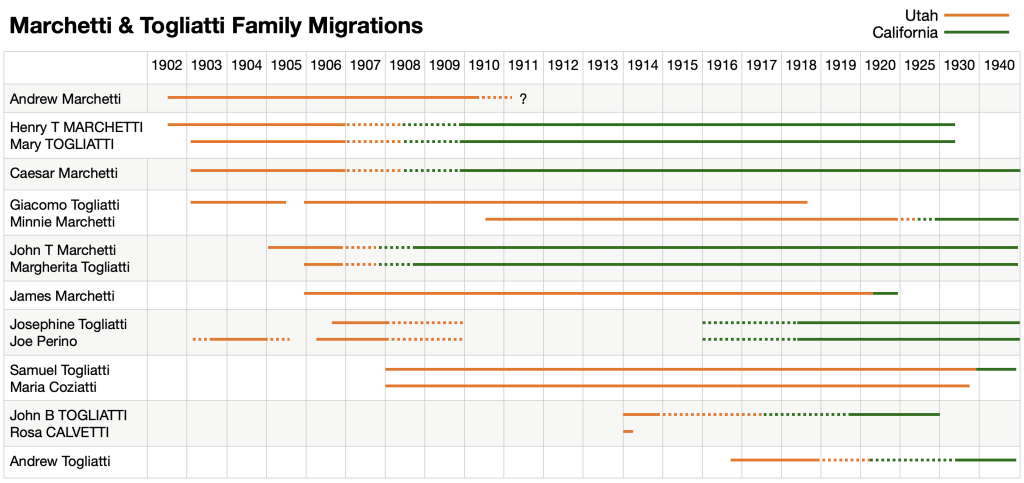 By the time of the 1920 Federal Census, the only Marchetti's left in Bingham were James and his widowed sister Minnie, a laundress working at home, raising her three children; John 8, Chester 7, & Rosie 3. According to Rosie Togliatti, her mother was debating returning to Italy instead of remaining in the USA without a spouse. However her sister-in-law Josephine, now Josie, and Joe Perino had relocated from Arizona to California and invited Minnie to join them in Gilroy. Josie & Joe were running their own fruit farm on Columbet Avenue, Gilroy, with their sons. Minnie moved out to Gilroy and lived in a tent on the property for 6-7 months while they waited for a house to become available and labored with her two sons as fruit pickers.
The Marchetti brothers, Henry, Cesare, & John, were all neighbors in Uvas Creek, Santa Clara, working as vineyardists and orchardists on their own account, living on property they owned free and clear, with their families, called Home Ranch.
James Marchetti finally arrived in San Jose to run a grocery store around 1923 but died shortly thereafter in 1924. The Togliatti patriarch, John Battista TOGLIATTI, also made the trip from Utah to Gilroy, before passing away in 1930, aged 77 years.
Sam Togliatti was the last family member to relocate to California. Upon the death of his wife Maria in 1938, he sold the grocery store business in Bingham Canyon and relocated to Eldorado County where one of his seven daughters had settled with her family.
There are more accounts to transcribe from the family's early years in California but until then you can read more about Home Ranch in Prohibition, what prohibition? Meanwhile Bingham Canyon remains only in literary references, photographs, film, and fading memories of the former residents. The canyon was consumed by it's own success…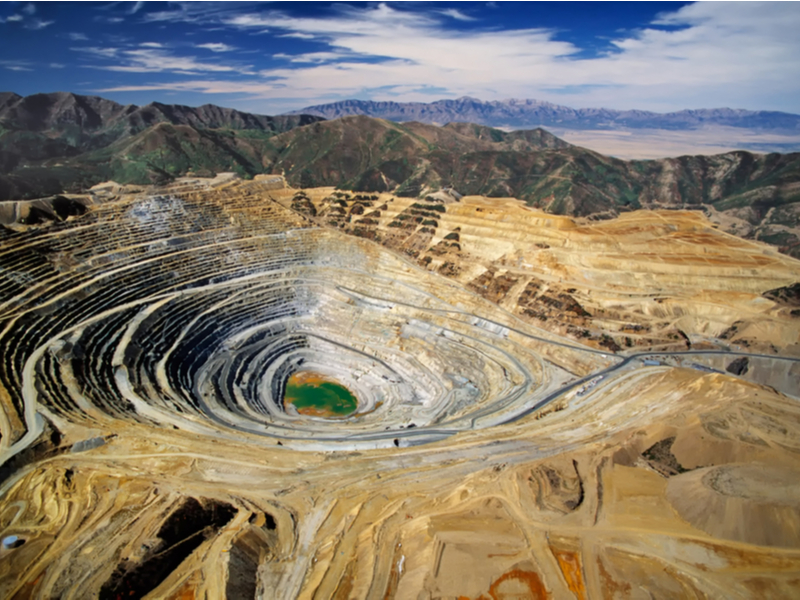 Marchetti Family Tree
Domenico MARCHETTI & Margharita FUMELLI
Andrea Marchetti (1869-?)
Henry (Enrico) T MARCHETTI (1869-1933) & Mary (Mariah) M TOGLIATTI (1878-1933)

Angeline (Angela) Theresa Marchetti (1898-1989)
James Samuel (Jacamo/Jimmy) MARCHETTI (1900-1965)
James (Giacomo) Marchetti (1870-1924)
Domenica "Minne" Maria Marchetti (1875-1958) & Giacomo Togliatti (1876-1918)

John Togliatti (1911-1983)
Chester J Togliatti (1913-1985)
Domenic Togliatti (1914-1914)
Rosie A Togliatti (1916-2006)
Caesar (Cesare) Marchetti (1878-1945)
John (Giovanni) Teobaldi Marchetti (1883-1963) & Maggie (Margharita) Togliatti (1888-1948)

Frank Caesar Marchetti (1908-2003)
Togliatti Family Tree
John (Giovanni) Battista TOGLIATTI (1853-1930) & Rosa CALVETTI (1854-1914)
James (Giacomo) Togliatti (1876-1918) & Domenica "Minne" Maria Marchetti (1875-1958)

John Togliatti (1911-1983)
Chester J Togliatti (1913-1985)
Domenic Togliatti (1914-1914)
Rosie A Togliatti (1916-2006)
Mary (Mariah) M TOGLIATTI (1878-1933) & Henry (Enrico) T MARCHETTI (1869-1933)

Angeline Theresa Marchetti (1898-1989)
James Samuel MARCHETTI (1900-1965)
Samuel "Sam" Togliatti (1881-1949) & Mary (Maria) Coziatti (1881-1940)

Rose Togliatti (1903-1937)
Anna Christine Togliatti (1906-1992)
Mary Togliatti (1908-1977)
Margaret "Maggie" Togliatti (1910-2001)
Infant Togliatti (1910-1910)
John Bob Battista Togliatti (1911-1954)
Thelma Togliatti ( 1913-1997)
Lillian Togliatti (1916-2006)
Mafalda Togliatti (1918-2006)
Bertha Togliatti (1921-2011)
Maggie (Margharita) Togliatti (1888-1948) & John (Giovanni) Teobaldi Marchetti (1883-1963)

Frank Caesar Marchetti (1908-2003)
Josephine (Guiseppina) Togliatti (1890-1975) & Joseph Victor Perino (1881-1953)

Joseph John Perino (1907-1997)
Robert Joseph Perino (1910-2001)
James Frank Perino (1918-1998)
Andrew (Andreas) Togliatti (1895-1976)
References