Ann Fussey's Award for Respectable Servitude!
Our fourth great grandparents Ann SPROXTON (1797-1875) of Roos and Anthony FUSSEY (1784-1860) of Ryehill married in Sheckling cum Burstwick in the winter of 1814. The village names may appear unfamiliar but they are all in the East Riding of Yorkshire, the far east!
To say the couple were productive is an understatement. Ann delivered fifteen children in 25 years, between 1815-1840, nine daughters and six sons. The son's followed in their father's footsteps becoming agricultural labourers whilst the daughters became farm servants.
The East Riding Agricultural Society recognized labourers and servants in husbandry at their annual event and, in the summer of 1846, Ann Fussey was the winner of Class E–Labourers' wives or widows who have placed out the greatest number of daughters in respectable servitude! The £2 prize money equates to £250 today.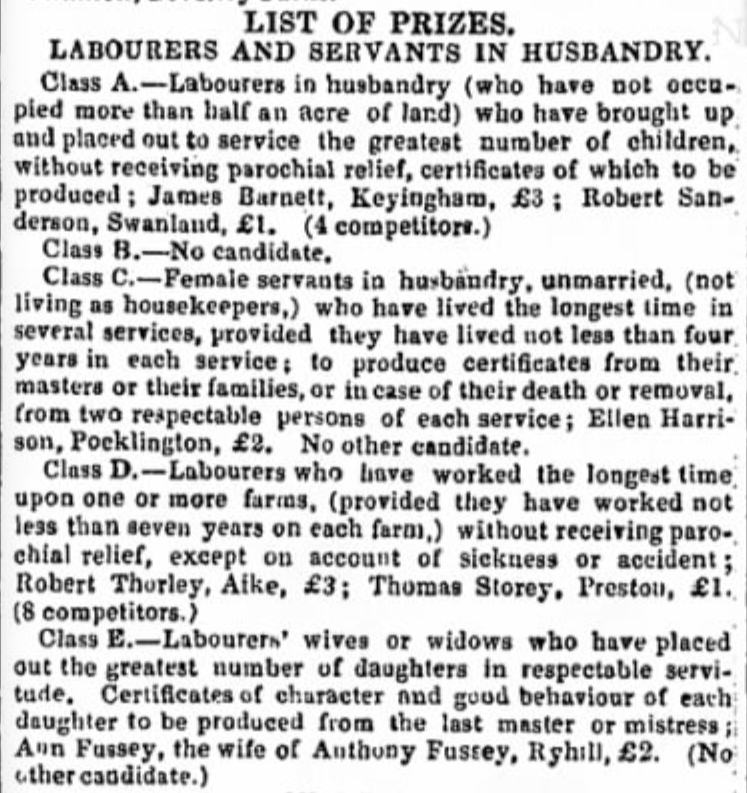 Farm & Domestic Servants lived with the farmer's family, negotiated contracts annually, and pre-requisites such as board and lodging totaling 15-30% would be deducted from their wages. They had no expectation of advancement or tenancy, and most associated the word 'servant' with a live-in single worker. The Fussey daughters were all servants by the age of 14 or 15 years, a role they would hold until marriage, within 3-8 years.
Family Tree
Our fourth great grandparents produced fifteen children between 1815-1840. Our direct line is descended from their ninth child, William FUSSEY (1828-1911).
Anthony FUSSEY (1784-1860) & Anne SPROXTON (1797-1875)

Mary Fussey (1815-?)
Frances Fussey (1817-?)
Hannah Fussey (1819-?)
Anthony Fussey (1820-?)
Lydia Fussey (1822-?)
Richard Fussey (1823-1886)
Anne Fussey (1825-?)
Timothy Fussey (1827-1876)
William FUSSEY (1828-1911) & Mary BAKER (1823-1913)

Jane Elizabeth FUSSEY (1861-1965) & Joseph Henry HUDSON (1862-1930)

Bernard HUDSON (1888-1939) & Elsie Mary HARDACRE (1892-1963)

Francis Fussey (1831-?)
Jane Fussey (1832-1853)
Elizabeth Fussey (1835-?)
Emma Fussey (1837-?)
Robert Fussey (1838-?)
Eleanor Fussey (1840-?)
References