Ralph Ryder & The Black Bear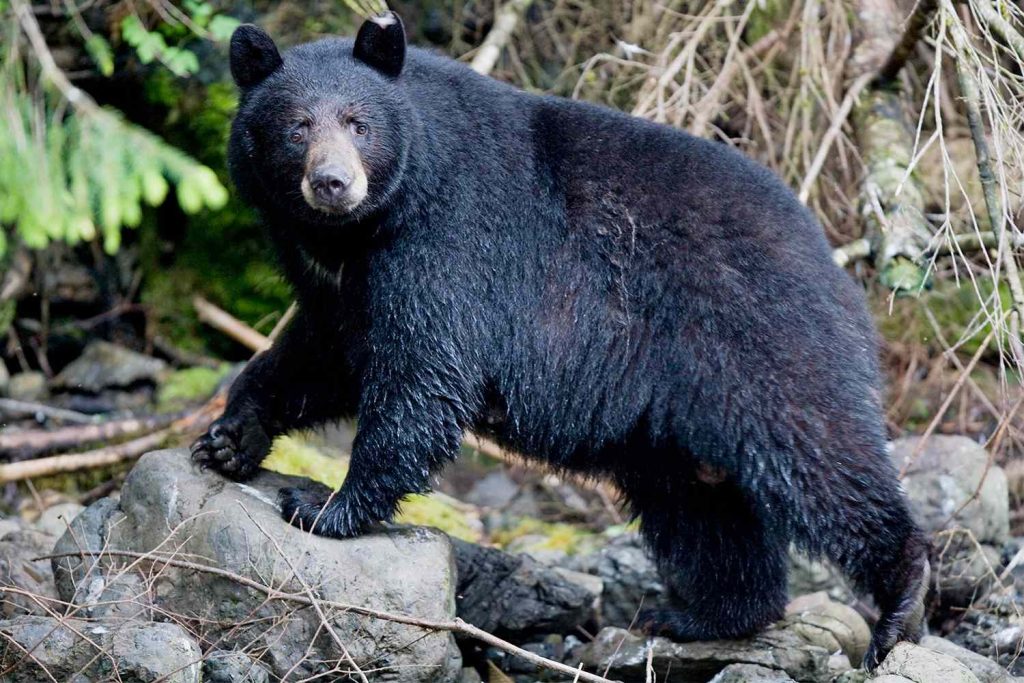 "You can take a man out of Yorkshire but you cannot take Yorkshire out of a man."
You can always rely on a Yorkshireman's sound judgement, economical turn of phrase, and thrifty ways. Why pay for a professional when thou can do it thissen? Having spent nigh-on forty years in these United States, twenty of them farming in Wisconsin, this cordwainer was faced with a choice (and a bear).
Ralph Ryder (1807-1888), our fifth great uncle on the Thompson side of the family, was born and raised in the East Riding Parish of Rillington Cum Scampston, near Malton. The cordwainer (shoemaker) by trade married Mary Shepherdson (1811-1871) from East Heslerton, five miles further east of Malton.
In 1844 with a decade of marriage under their belts, the couple decided to depart the idyll of the East Riding of Yorkshire and board a sailing ship bound for the Americas.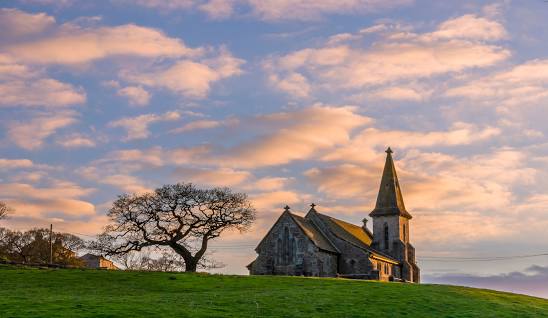 After successfully establishing a shoe and boot business in upstate New York the family relocated to the newly cleared lands of Dunn County, Wisconsin. Never one to be defeated by a challenge, Ralph and the Ryders built a farm house, log barns, and successfully farmed produce and livestock. He outlived his wife and all but one of his children, George John, who took over the running of the farm.
At 75 years of age, Ralph's reactions were as sharp as ever, his physique that of a man half his age, and his delusions of invincibility as keen as any teenager. Faced with a Black Bear weighing up to 500lb, charging towards him at 30 mph, the shoemaker reached for the trusty Henry Repeating Rifle. His nephew and several boys riled up the beast as Ralph raised his rifle, held his nerve, and aimed for center mass. What could possibly go wrong?
A Bear Killed.

The people in the town of Spring Brook, Dunn County, were considerably excited last Tuesday over the result of an attempt to shoot a large black bear, made by Ralph Ryder, a man nearly eighty years old. The animal was first seen passing near a cornfield in close proximity to Ryder's house, and as soon as a gun could be brought out the old man took a stand, and his nephew with the assistance of several boys, succeeded in startling the animal toward him. Ryder held his fire until the bear was within a few yards of him and when discharged his piece, had the satisfaction of seeing the brute drop as though dead, but before two seconds of time had elapsed, he found himself in the unyielding grasp of a pair of huge paws and felt the teeth of the dying beast crushing through his hand and wrist. Before the tussel was over he was badly used up, having both wrists broken and a large piece of scalp stripped from the top of his head to his eyebrows. His condition today is not at all encouraging. Persons living within seven miles of Ryder's home have seen bears this fall large enough to demolish a strong board fence with little or no effort– E.C. Free Press.

The Dunn County News, 23 Sep 1882 – Page 5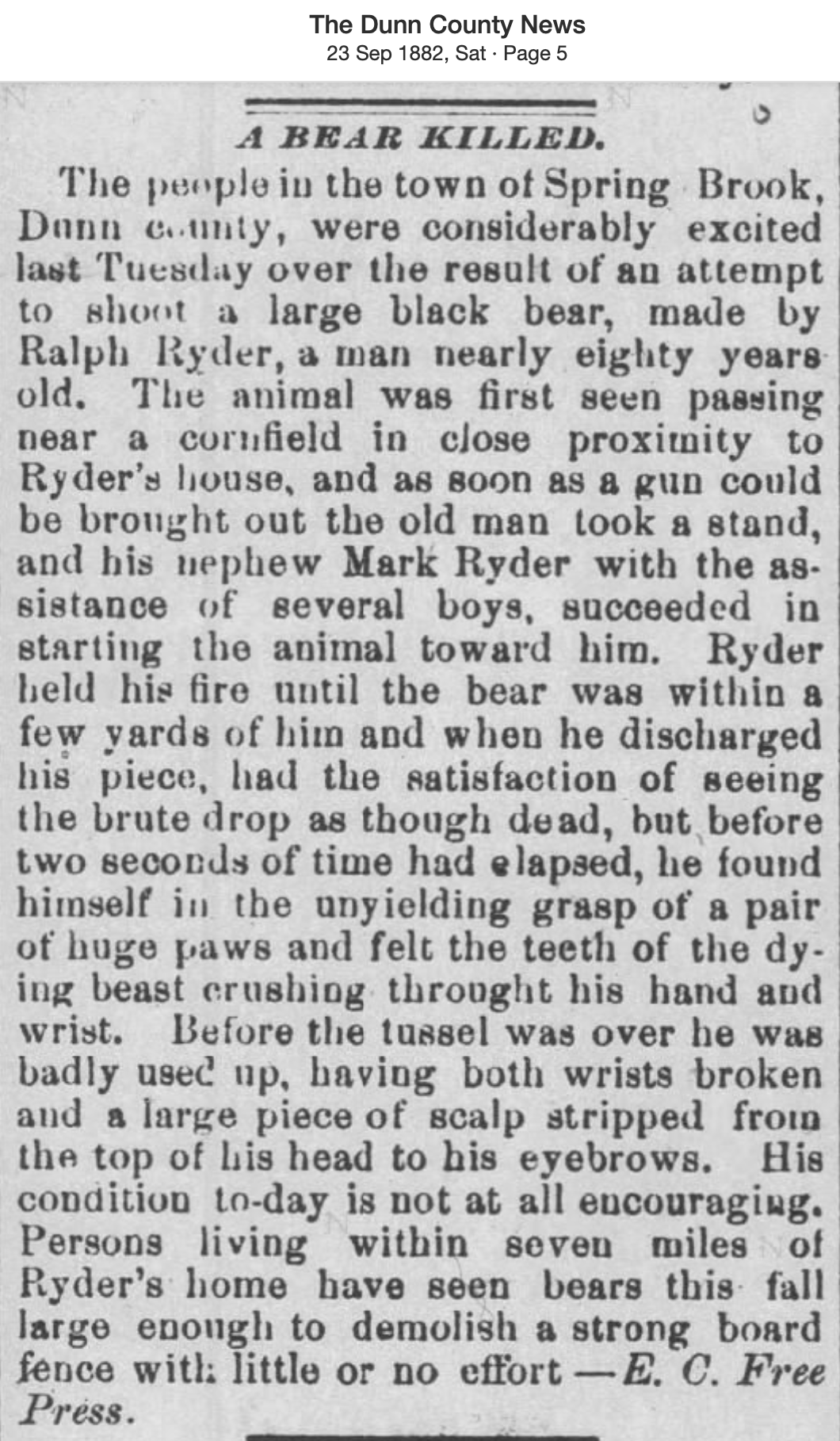 Ralph Ryder survived the back bear encounter, although there are no follow up articles to relay his recuperation, and lived to the grand old age of 80 years. He is buried alongside his wife Mary in the family plot in Pleasant Valley Cemetery, Dunnville, Dunn County, Wisconsin.
Family Trees
Our common ancestors are our 5th Great Grandparents, George SHEPHERDSON & Charlotte BANKS, who produced nine children in Sherburn, five of whom survived to adulthood. Our direct line descends from their second child, George. Mary was their seventh child.
George SHEPHERDSON (1771-1838) & Charlotte BANKS (1769-1856)

Charlotte Shepherdson (1792-1792)
George SHEPHERDSON (1793-1867) & Elizabeth PORTER (1790-1870)

Ann SHEPHERDSON (1820-1909) & George SMITH (1816-1892)

Elizabeth SMITH (1849-1907) & Robert THOMPSON (1839-1896)

William THOMPSON (1891-1964) & Clara Eva BAKER (1893-1962)

Winifred May THOMPSON (1920-1977) & Charles Reginald BAINBRIDGE (1915-1994)

William Shepherdson (1796-1864)
Mary Shepherdson (1801-1802)
Charlotte Shepherdson (1807-1808)
John Shepherdson (1809-1897)
Mary Shepherdson (1811-1871) & Ralph Ryder (1807-1888)

Robert Shepherdson (1813-1877)
Jabez Shepherdson (1816-1818)
References
A Bear Killed, The Dunn County News, 23 Sep 1882 – Page 5, Newspapers.com
East Heslerton, Wikipedia
West Heslerton, Wikipedia
Rillington, Wikipedia
Parish of Rillington cum Scampston, WeRelate.org
Marcy, Oneida, New York, Wikipedia
Wisconsin, Wikipedia
Dunn County, Wisconsin, Wikipedia
Dunn, Dunn County, Wisconsin, Wikipedia
Spring Brook, Dunn County, Wisconsin, Wikipedia
American Black Bear, Wikipedia
Henry Rifle, Wikipedia
Use These Rifles When Hunting Black Bears and Grizzlies, Wide Open Spaces
Ralph Ryder, FindaGrave.com