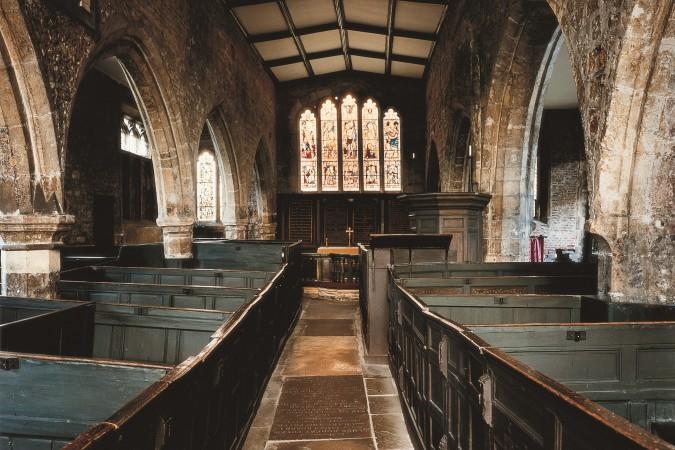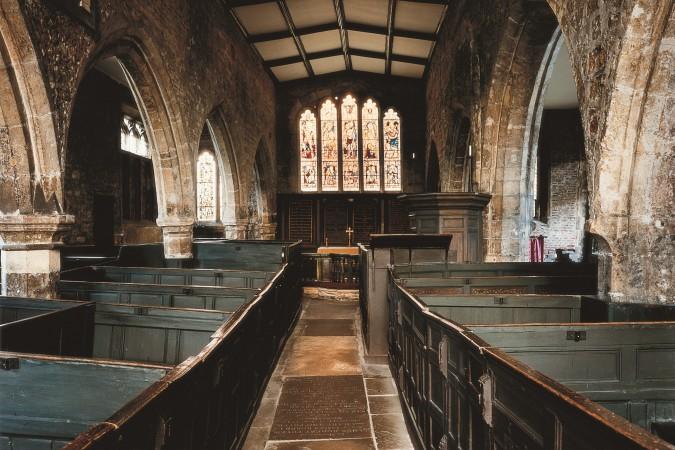 Jane Scott was born 1828 in Sutton on the Forest to parents John Scott, an agricultural labourer, also from Sutton on the Forest & Anne Taylor, originally from Oulston.
Jane was the ninth of eleven children, all born in Sutton on the Forest, spanning the 17 years between 1813 – 1832. Baptised 27 April 1828, All Hallows' Parish Church was presumably the venue for all the family baptisms.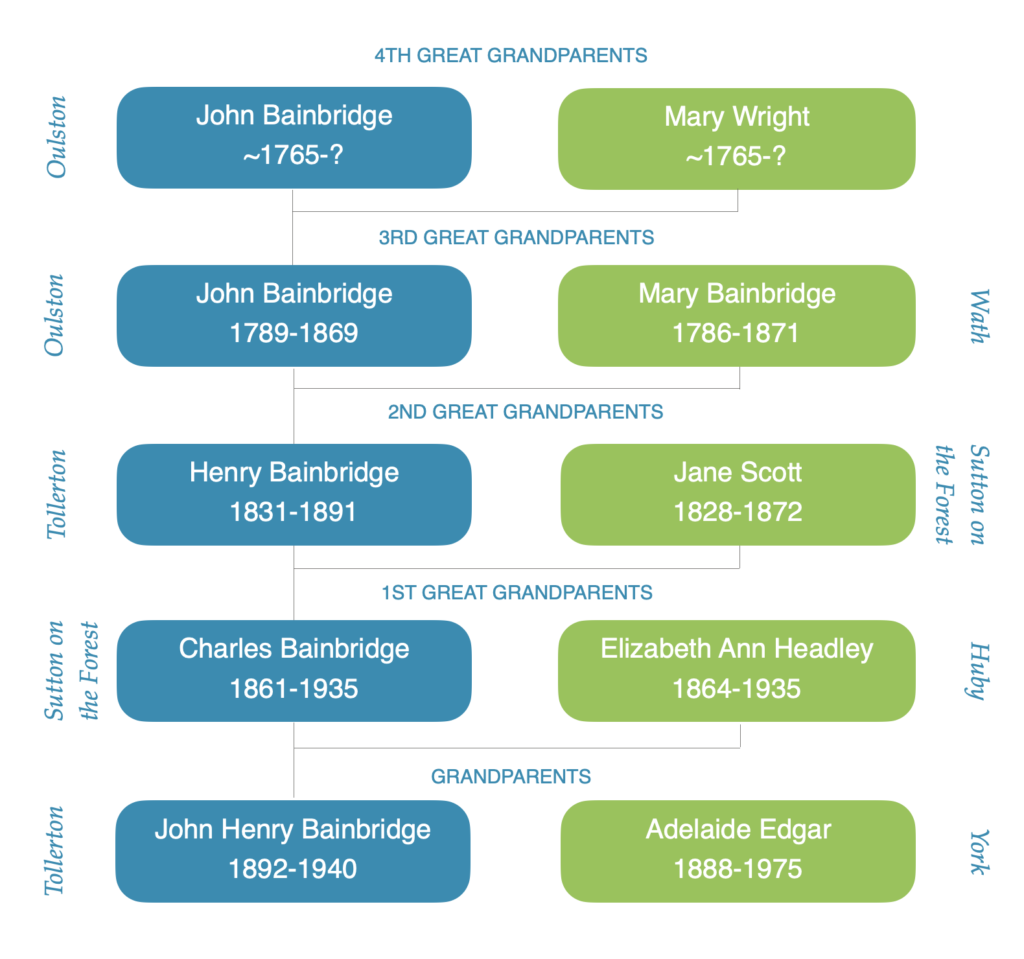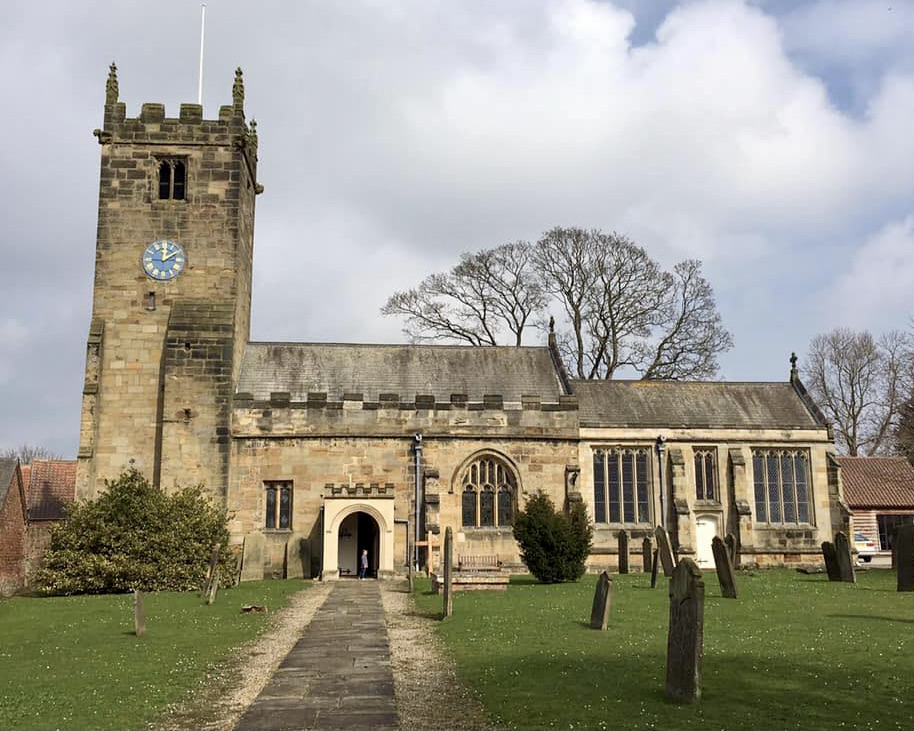 Jane Scott, 25 year old farmer's daughter, married Henry Bainbridge, a 26 year old gentleman from Goodramgate, York, in the Holy Trinity Church, Goodramgate in August 1858.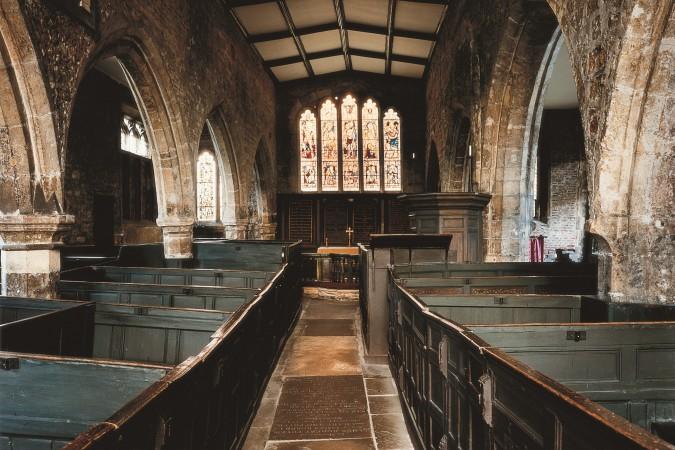 Jane returned to Sutton upon Forest with her new husband, Henry, working as a farm labourer at Sutton Grange. They raised two sons, John (1859-1935) & Charles (1861-1935), our ancestor. After Charles' birth in March 1861, one of Jane's sisters Mary Scott and daughter stayed with the family, to help out. Two daughters followed, Mary Ann (1863-1925) in Sutton on the Forest and Ada M (1866-1952) once the family had moved to Tollerton.
By the time of the spring of 1871, Jane was terminally ill. Henry was working as an agricultural labourer, reliant upon his family and in-laws to help raise their children. children. Charles was living with his uncles, Joseph & Charles, aunt Elizabeth, and widowed grandmother, Mary Bainbridge.
Jane's succumbed to cancer of the stomach, age 42, in April 1872, leaving Henry a widow with four children aged 5 — 12 years.

The eldest son, John Bainbridge (1859-1935), moved to Chapel Haddesey, near Selby, where he married a single mother, Harriet Jenkinson, with a young daughter and they raised eight children together. John worked for the Aire & Calder Navigation Company who canalized the River Calder from Wakefield to Castleford, joining the branch from Leeds via the River Aire to Goole via the Selby Canal. From my research, this one family are responsible for the preponderance of Bainbridge's in and around Selby!
Our ancestor and second child, Charles Bainbridge (1861-1935), was a platelayer for North Eastern Railway and settled in Tollerton with his wife and family. A dedicated article will follow.
Mary Ann Bainbridge (1863-1925) married James Dunnington, from Tollerton, in St Mary's Church in Alne, and they moved to Northallerton where he worked as signalman for Northeastern Railways. They raised one son, a bricklayer, who enlisted with the Royal Engineers in 1914. Sapper Henry Dunnington, 157th Field Company, was killed in action, 12 October 1918, during the much criticized pursuit to Mons in Belgium in the final days of WWI.
The youngest daughter, Ada M Bainbridge (1866-1951) remained with her father in Tollerton until his death, then joined her elder brother Henry, near Selby. Ada married Thomas Scatchard of Chapel Haddesley in early 1897, giving birth to their first son Henry in August. They raised a total of four children before Thomas' untimely death aged only 39. Ada was left with four children aged between 2-9 years but married a former soldier, Private James Allison, recently retired from 12 years service with the West Yorkshire Regiment, and settled on a farm in Ferry Fryston. Their eldest son went on to serve during WWI but returned to settle around Wakefield near his siblings, all raising families.
Read more about the family… next up Henry & Jane's son, Charles Bainbridge 1861-1935
Family of Jane Scott 1828-1872
Parents
John SCOTT 1786-1857
Ann TAYLOR 1790-1878
Siblings
George Scott 1813-1819
John Scott 1815-?
Hannah Scott 1817-?
George Scott 1819-?
Harriet Scott 1821-?
Ann Scott 1823-?
Mary Scott 1826-?
Joseph Scott 1826-?
Elizabeth Scott 1830-?
Thomas Scott 1832-?
Spouse
Children
John Bainbridge 1859-1935
Charles BAINBRIDGE 1861-1935
Mary Ann Bainbridge 1863-1925
Ada M Bainbridge 1866-1951