Elizabeth Ann Headley & Domestic Service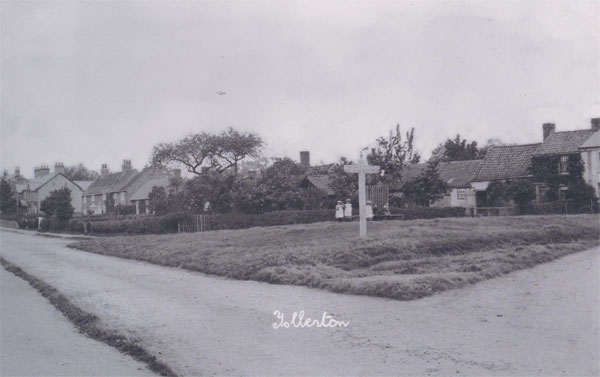 Our 3rd Great Grandmother, Elizabeth Ann HEADLEY, was born 1863 in Huby, Yorkshire, to parents Isabella MENNELL & John HEADLEY, an agricultural laborer. Elizabeth was the sixth of eight siblings, seven of whom survived to adulthood. All four brothers relocated to Shildon, County Durham, to work in the coal mines or railways and her two sisters moved out of the village to raise large families in towns where their husbands held industrial jobs.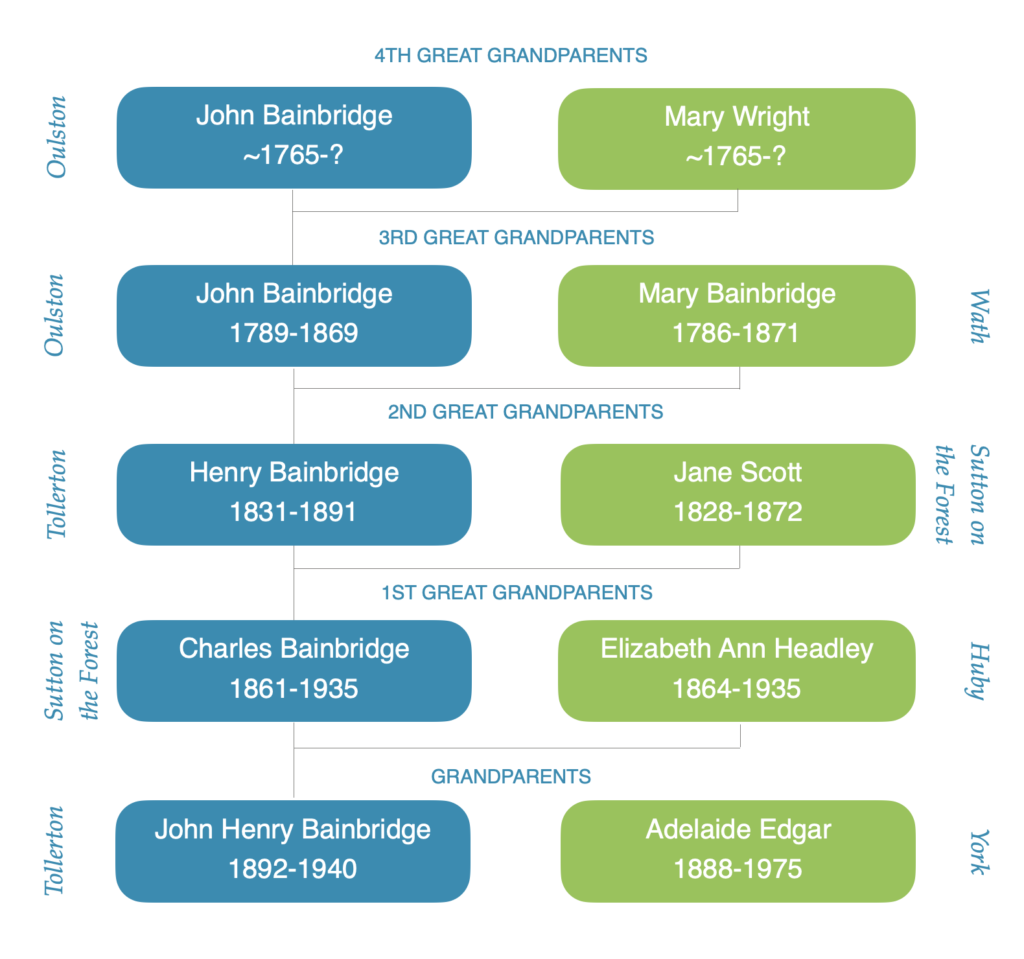 HUBY, a village and a township in Sutton-on-the-Forest parish, N. R. Yorkshire. The village stands 4¼ miles SE of Easingwold, and is noted for a Maypole festival on the third Sunday of June.-The township comprises 4,515 acres. Real property, £5,147. Pop., 572. Houses, 112. There are chapels for Quakers, Wesleyans, and Primitive Methodists.

1870-72, John Marius Wilson's Imperial Gazetteer of England and Wales
Elizabeth worked as a domestic servant but was unemployed and living with her parents when Charles Bainbridge, a farm servant, came to visit in spring of 1881.
Domestic servants lived with a family, negotiated contracts annually, and pre-requisites such as board and lodging totaling 15-30% would be deducted from their wages. They had no expectation of advancement or tenancy, and most associated the word 'servant' with a live-in single worker. Daughters would usually become domestic servants by the age of 14 or 15 years, a role they would hold until marriage, within 3-8 years.
Charles & Elizabeth married in early 1884, settled in Huby, where their first child, Mary Jane, was born Boxing Day 1884. Two more children followed before the family moved to Tollerton around 1890 where two sons were born, the last of whom, John Henry, our ancestor was born in 1892.
The family lived in a five room house in Tollerton village next door to the school and Weslyan Chapel where Charles served as a sexton in his retirement. The children moved out for domestic servant positions, starting from the age of about 12 years with the exception of Arthur who was living at home until he was at least 21.
Mary Jane 1884-? worked as a Kitchen Domestic at Huntington Hall until her marriage to William Henry Todd, farm labourer, in 1905, then raised seven children in Huntington Road and then The Groves neighbourhood of York.
Elizabeth Isabel 1886-1964 married John Milton Pallier, a postman, in 1908, moved to The Groves neighbourhood of York and raised four of five children, losing one in infancy. As a recent widower, Elizabeth moved to Tang Hall and cared for her mother in her last two months after she was also widowed.
Charles Ernest 1887-1965 worked as page boy, domestic servant, from age of 12 in Harrogate. After marrying Mary Elizabeth Chapman in Bedale in 1910, the couple moved to Constable Burton. Charles worked as Railway Signal Porter on the Wensleydale Railway, and Mary raised two children. They retired to the former Station Masters House in Spennithorne, Leyburn.
Arthur Bainbridge 1890-1939 worked as porter for North Eastern Railway but died young, aged only 48 years.
John Henry Bainbridge 1892-1940 and his family will be covered in an upcoming post.

After Charles' death Elizabeth moved into York, to an end terrace off Tang Hall, to live with her recently widowed daughter Elizabeth Pallier and granddaughter Kathleen. She passed away just two months later from a cerebral hemorrhage. Elizabeth is buried alongside her husband in Alne Churchyard.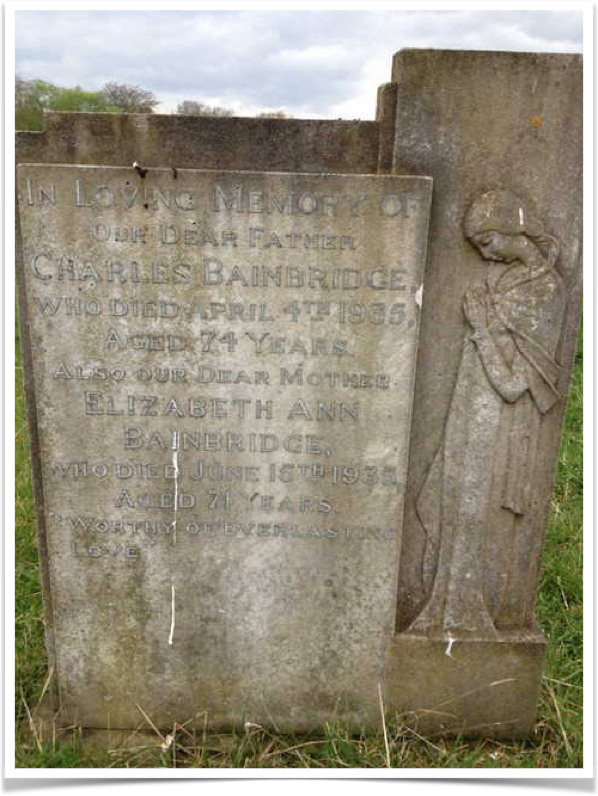 Elizabeth's probate was left to the eldest daughter, Mary Jane, and the eldest son Charles Ernest.
BAINBRIDGE, Elizabeth Ann of 64 Sixth-avenue, Heworth, Yorkshire, widow died 5 June 1935 Probate York 22 August to Charles Ernest Bainbridge porter signalman and Mary Jane Todd (eldest daughter & wife of William Henry Todd). Effects £912 4s.
Family of Charles Bainbridge 1861-1935
Parents
John HEADLEY 1830-1901
Isabella MENNELL 1828-1907
Siblings
George Headley 1850-1924
William Headley 1852-1929
Emma Headley 1854-?
John Mennell Headley 1857-1907
Robert Headley 1861-1878
Hannah Bella Headley 1866-1932
Henry James Headley 1868-1894
Spouse
Children
Mary Jane Bainbridge 1884-?
Elizabeth Isabel Bainbridge 1886-1964
Charles Ernest Bainbridge 1887-1965
Arthur Bainbridge 1890-1939
John Henry BAINBRIDGE 1892-1940