Justus Morris & The Sickly Shoat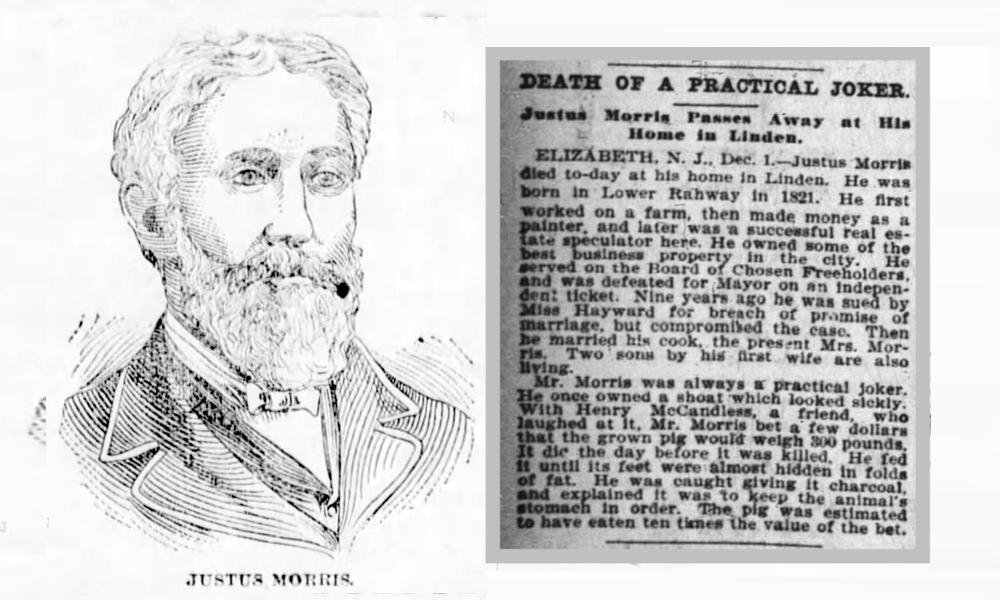 The New York Times recorded the death of 3rd Great Grandfather, Justus MORRIS (1821-1899), with a humorous obituary, acknowledging his history as a practical joker. In order to win a bet with a friend, Justus spent ten times the value of the bet fattening up a sickly shoat (recently weaned pig) to reach 300lbs before slaughter!
This was not the first write up in the newspaper as Justus appears to have courted the press on numerous occasions. Perhaps the most notable was a May to September romance with Miss Fanny Howard.
After the death of his first wife, Mary Smith REEVE (1816-1889), Justus became acquainted with Miss Howard and like the usual run of love stories, it was a case of love at first sight. His son's objected to the relationship due to the 53 year age discrepancy, however Justus proclaimed his intention of marrying Fanny.
Elaborate wedding plans were arranged by Fanny with a prominent caterer and a florist. Additionally eccentric Justus fattened up his largest hog as a prize to the wedding guest who guessed nearest its weight.
As Fanny and her guests arrived at the homestead on the appointed wedding day, she was devastated to find her fiancé was suffering from pneumonia. The marriage was postponed but Fanny stayed on to nurse her love back to health.
Her care, it is alleged, aided in his final recovery. The illness, instead of deepening his love for his betrothed, seemed to have had a contrary effect.

Her Wounded Heart, 20 Sep 1894 Westmoreland Recorder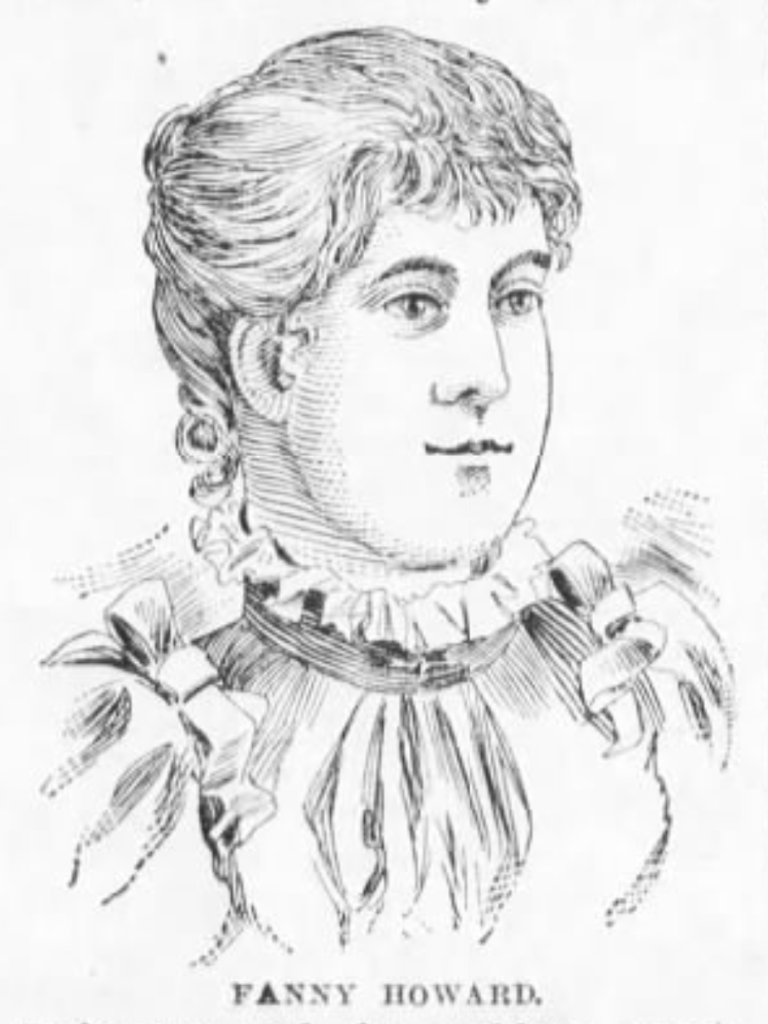 The wedding was postponed indefinitely, and finding that persuasion was useless, the 'comely maiden' threatened to sue for $20,000 for breach of promise, taking the case before the New Jersey Supreme Court. Justus laughed heartily when served with the notice and is said to have considered it a good joke. Safe to say Justus found love in the arms of another woman, Anna Hergert, his 22 year old cook. Four years later Justus Morris passed away at his home in Linden, NJ.
New York Times Obituary
Death of a Pratical Joker. Justus Morris Passes Away at His Home in Linden 02 Dec 1899, Sat The New York Times (New York, New York) Newspapers.com
Death of a Practical Joker.

Justus Morris Passes Away at His Home in Linden

ELIZABETH, N.J., Dec 1.–Justus Morris died today at his home in Linden. He was morning in Lower Rahway in 1821. He first worked on a farm, then made money as a painter, and later was a successful real estate speculator here. He owned some of the best business property in the city. He served on the Board of Chosen Freeholders, and was defeated for Mayor on an independent ticket. Nine years ago he was sued by Miss Hayward for breach of promise of marriage, but compromised the case. The married the cook, the present Mrs. Morris. Two sons by his first wife are also living.

Mr Morris was always a practical joker. He once own a shoat [newly weaned young pig] which looked sickly. With Henry McCandless, a friend, who laughed at it, Mr Morris bet a few dollars that the grown pig would weigh 300 pounds. It did the day before it was killed. He fed it until its feet were almost hidden in folds of fat. He was caught giving it charcoal, and explained it was to keep the animal's stomach in order. the pig was estimated to have eaten ten times the value of the bet.

2 Dec 1899, New York Times, New York, New York, Newspapers.com
Family Tree
Justus MORRIS (1821-1899) & Mary Smith REEVE (1816-1889)

Rufus Hamilton MORRIS (1846-1907) & Helen Wenman WEST (1842-1871)

Rufus Hamilton MORRIS (1869-1942) & Maria de la Concepcion VALDEZ Y SUAREZ (1874-1970)

Leon Morris (1903-1995)
Caridad S Morris (1904-1990)
Helen Morris (1906-1907)
Robert MORRIS (1911-1989) & Mary Hayden BACON (1912-1998)
Rufus Hamilton Morris (1911-1976)

Helen West Morris (1871-1957)

Mary J Morris (1846-1851)
Justus Morris Jr (1849-1924)
Alexander Hamilton Jnr Morris (1851-1899)
Annie Elizabeth Morris (1853-1855)
References